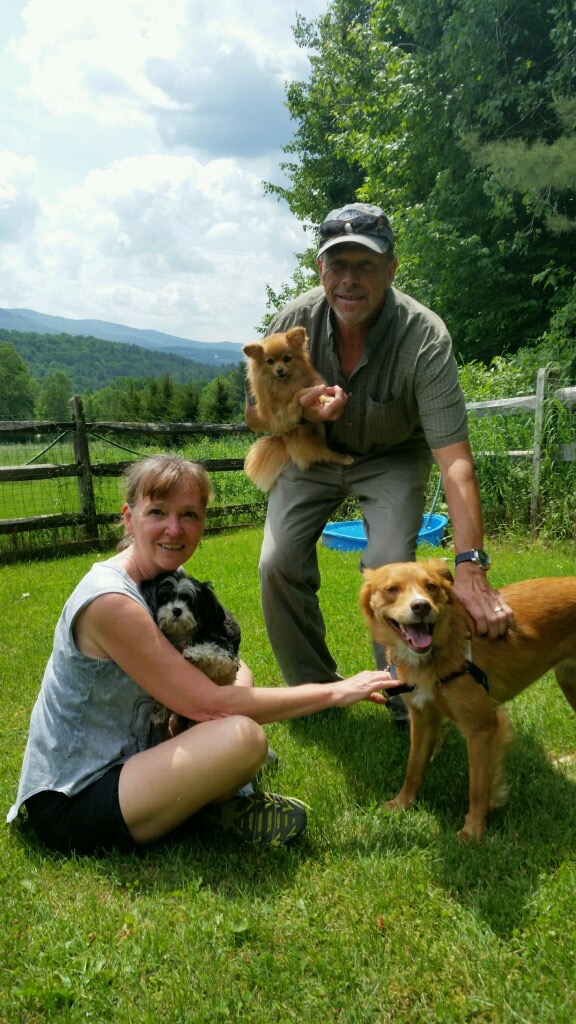 Kathy and Tom Mehuron, Waitsfield, always have three rescue dogs. "That's our limit. We can't do a good job with more than three," Tom said "Rescues come with their quirks, there's no doubt about that. But there are no animals more grateful," he added.
Take Francesca. She's black and white. When they first got her, she was a 5-year-old breeder, who'd been forced to have litter after litter in a puppy mill. Her muscles were so weak she couldn't climb the one stair that led to the Mehuron's back yard. Today she's fit as a fiddle. Even though she's a small dog, she's the first to want to go on any hike and has made it to the top of many mountain peaks Tom nicknamed her Miss Happy. Half Havanese, half Maltese she is Kathy's shadow.
Then there's Mocha who came from the folks at Golden Huggs Rescue. Down south there are many high kill shelters, and Golden Huggs tries to save as many of these dog as they can. Mocha was found with a logging chain around her neck tethered to a tree. It had rubbed the fur right off. She was so neglected, the neighbors collected money to feed the poor puppy. She made her way up the East Coast and was fostered in Burlington. When the Mehurons went to meet her, she climbed into Tom's lap and there was no going back. Supposedly, she was afraid of men. That must have been a myth. Mocha loves to make snow angels, rolling in the snow every chance she gets.
Finally, Kathy and Tom have Tasmania. "Tasmanian Devil, that says it all," Tom said. Her mother was a 6-pound Pomeranian found on the streets in Tennessee, so emaciated the ASPCA volunteers didn't realize she was pregnant. DNA shows the father was a Chihuahua. Tasmania was the only puppy in the litter to survive.
"Many don't realize that small dogs have very particular needs. Safety is an issue. At 5 months old she was only two and a half pounds. Luckily, Tom has a gift training and handling small animals. At 6 pounds, Tasmania rules the roost with attitude. Interestingly, Tasmania is the only one of the dogs who needs to be muzzled for a vet visit," Kathy Mehuron said.
"If I remember correctly, the day that I found Tasmania in a Massachusetts shelter there were over 600,000 rescue dogs in U.S. shelters. I would encourage anyone to consider rescue first, before buying from a breeder. Every breed has its own rescue organization," Tom said.
Tom had dogs as a kid but then not again until he and Kathy got their son Thomas a dog for his 10th birthday in 2001. That was the only pure-bred dog they bought. After that they turned to rescues and have never looked back.
Small dogs, Tom said, are capable of so much more than most people think. They just need to be given a chance.
"I treat them like full-size dogs except where I have to factor in meeting people outside our circle. Of course, those dogs have never expressed directly their appreciation, but you can almost sense when they have a chance to live the life of bigger dogs, getting the chance to run, play, smell anything interesting and just being paid attention to. I thought Kathy was crazy when she adopted our first small dog, a tea cup Pomeranian with a heart defect. But that dog was so game, she was an inspiration to life. And I was hooked," he said.
Kathy said she had a dog growing up, but felt her parents had no idea what they were doing.
"It was Tom who taught me about all animals. But it's me who insists we take on all the most difficult cases. They are a great reward. I think we bond over them," she added.