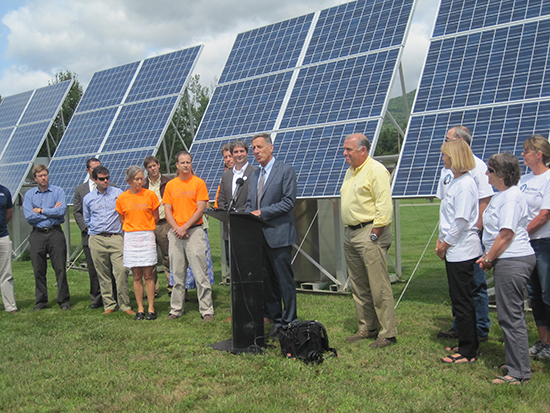 By Rachel Goff
On Tuesday, July 29, Governor Peter Shumlin visited The Valley to announce $442,750 in Vermont Clean Energy Development Fund grants for nine community solar projects—including one in Warren and one in Waitsfield.
Shumlin made the announcement at Northern Reliability's office at Mad River Park in Waitsfield as part of his Summer Solar Tour recognizing towns and businesses for their work with renewable energy systems. "As far as I'm concerned, this is the most important work we could be doing," Shumlin said.
In addition to Northern Reliability, employees from Waitsfield-based Aegis Renewable Energy and Waterbury-based SunCommon attended the event, as well as elected officials from Warren and Waitsfield.
Across The Valley, towns have "very progressive energy plans," Waitsfield Energy Committee chair Chris Badger said on Tuesday, and this summer both Warren and Waitsfield received $80,000 grants from the state's Clean Energy Development Fund to install municipal solar arrays.
In Warren, Aegis Renewable Energy will install a 522-panel solar array behind Brooks Field at Warren Elementary School. The 162kW array will produce 165kWh of net-metered electricity, which will offset 88 percent of the town and town school district load.
Just up Route 100, Aegis Renewable Energy will also install a 330-panel solar array at the town garage off of Tremblay Road in Waitsfield. The net-metered electricity that the 102kW array produces will offset all of the energy used by the new town offices and Waitsfield Elementary School as well as part of the energy used by other municipal buildings including the fire station and the Wait House.
"The site has been cleared at the town garage, and almost any day now we could be breaking ground [on the project]," Waitsfield town administrator Valerie Capels announced Tuesday morning, and Warren plans to have its solar array up and running by the start of the school year in September.
In Waitsfield as well as in Warren, the solar arrays "will be a very useful tool to the school and its curriculum," Capels said, as students can track the systems' energy output in real-time via an online interface.
In terms of eco-friendly technology, "Vermont is leading the nation," Shumlin said, and "the communities that we're talking about today are why I'm so optimistic."
In addition to Waitsfield and Warren, the towns of Richford, South Strafford, Thetford, Sharon, Berlin and Shrewsbury also received Clean Energy Development Fund grants for projects. The Clean Energy Development Fund was created to increase cost-effectiveness and environmentally sustainable electric power resources, primarily with renewable energy resources and the use of combined heat and power technologies.
{loadnavigation}