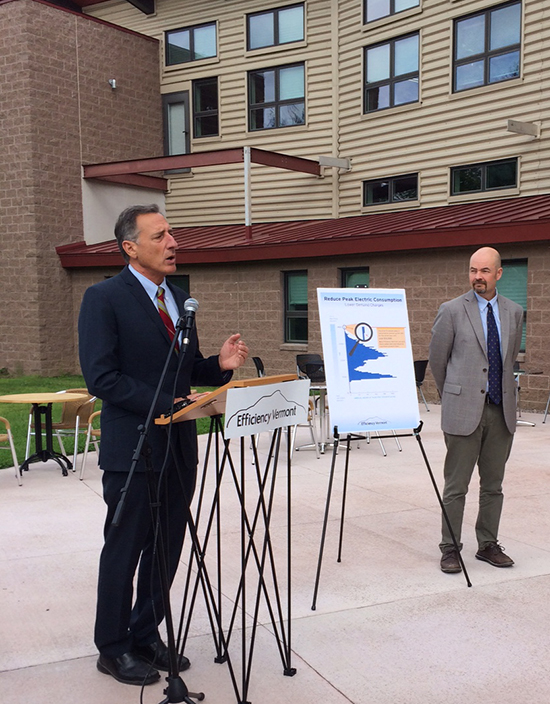 By Rachel Goff
Last week, Governor Peter Shumlin visited The Valley to unveil a new initiative that will help Vermont manufacturers reduce their energy costs, effectively monitor and manage their costs over the long term and in doing so increase their competitiveness.
Efficiency Vermont plans to invest approximately $2 million in the Industrial Peak Initiative, Shumlin explained alongside other legislators, utility leaders and local business owners who gathered at the offices of Cabot Creamery Cooperative at Mad River Park in Waitsfield on Thursday, August 7. Cabot is one of 19 in-state manufacturers who will be participating in the initiative.
"We need to be doing everything in our power to help Vermont manufacturers compete in a global marketplace," Shumlin said. "This includes helping them manage their energy costs. By working with Efficiency Vermont to reduce their peak electric loads, they can save money and focus on growing their business right here in Vermont."
In 2013, peak demand charges accounted for 26 percent of annual electric costs for the state's 19 largest manufacturers. The Industrial Peak Initiative's first goal is to reduce those costs by 10 percent, which will result in an aggregate savings of $1.5 million a year. The initiative's three key components include customized analysis of energy use through the use of smart meter data, sub-metering and other tools, as well as assistance and support in implementing measures to minimize peak demand ranging from low-cost options to capital investments.
"Our team works with businesses of all sizes across the state," director of Efficiency Vermont Jim Merriam said. Right now, "we're really excited to launch the Industrial Peak Initiative with our utility partners, the Public Service Board and large Vermont manufacturers," he said. "In the future, we expect to expand this collaborative effort to support even more businesses across a range of sectors with innovative tools that will help them better anticipate and manage their energy costs."
According to senior vice president of manufacturing at Cabot Ed Pcolar, "We are always looking to better understand the factors that are driving our costs and address them," he said.
Efficiency Vermont was created by the Vermont Legislature and Vermont Public Service Board to help residents and businesses reduce energy costs, strengthen the economy and protect the environment. For more information about the organization or the initiative, visit efficiencyvermont.com or call (888) 921-5990.
{loadnavigation}