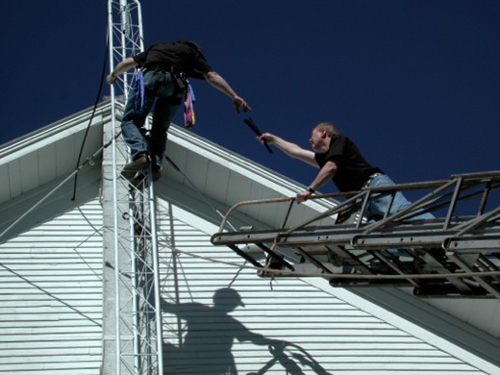 Like good Vermont cheese, WMRW, the all-volunteer, non-commercial, community radio station stands alone in the Mad River Valley. It is the source for music, alternative opinions and news and views expressed by friends and neighbors. This fall marks a decade of broadcasting, so WMRW is celebrating with a 10th anniversary bash on September 6 at the Temple of Dindhor, 1635 West Hill Road, Warren.
Festivities include live performances by Phil Yates, The Kind Buds and The Jack Grace Band as well as a barbecue by Tim Seniff of Chez Henri. Wine and beer on tap will be available. There will be a meet and greet with WMRW's broadcasters and games of chance in a spectacular, family-friendly location. Guests should feel free to picnic if they desire and kids under 12 are free.
A major goal of the celebration is to improve the broadcast signal. Seven days a week, 24 hours a day, 45 programmers stream to the world on the Internet, but over-the-air radio reception is spotty due to conflicts with a Canadian superstation.
The transmission upgrade will allow WMRW to better cover the Mad River Valley and beyond. The cost of the planned improvement is around $20,000 of which $4,000 has already been raised.
Tickets for the 10th Anniversary Bash Concert are available online and at the door. All proceeds go to support WMRW community radio. For more information and advance tickets, visit wmrw.org, or call 496-4951 and leave a message.
{loadnavigation}