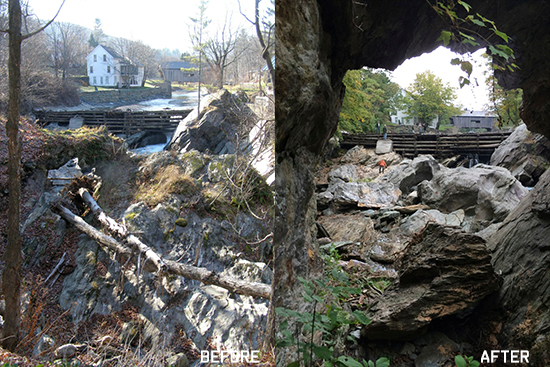 By Rachel Goff
Last week, volunteers from the Warren Village Dam Preservation Trust spent a few hours cleaning debris that had gathered around the timber crib dam, which sits in the river just north of the Warren covered bridge.
Once a working part of a bustling mill town, the 200-year-old structure has started to deteriorate and at their meeting on August 12 Warren Select Board discussed its plans to obtain a stream alteration permit from the Vermont Agency of Natural Resources (ANR) in order to remove it.
"Almost every day there are kids climbing up and down the dam," one adjacent landowner said at last month's meeting.
This is especially concerning because "the dam has a sinkhole right above it," select board member Matt Groom explained. "Sometimes it's there; sometimes it's not," he said, "but if anyone falls in, they're not coming out."
While the town sees the dam as a liability, the Warren Village Preservation Trust sees it as a possibility. For the past two years the trust, which owns the timber crib dam, has been trying to obtain a stream alteration permit from the ANR to repair the structure rather than remove it, as they'd like to see it restored to its former hydropower-producing glory.
Over the past few years, the Warren Village Dam Preservation Trust has not succeeded in obtaining a stream alteration permit from the ANR, but a group of residents now led by Dave Sellers have not given up their efforts to repair the dam.
Since last year, "it seems like [the ANR] has switched gears" when it comes to hydropower, Eric Brattstrom of the Warren Village Dam Preservation Trust said, explaining that the state agency is now helping people negotiate some of the red tape surrounding small projects.
Brattstrom, who serves as co-chair of the Warren Energy Committee, attended a state meeting on low-impact hydro screening this past spring that the ANR, the Vermont Public Service Department and the Vermont Agency of Commerce and Community development designed to assist developers while at the same time protecting natural and historic resources.
In other words, "the idea was to give people that had some interest in hydropower a set of standards for projects that—if they met—they would have no problem getting through the ANR," Brattstrom explained. And, according to Brattstrom, Warren's timber crib dam meets all of the ANR's low-impact standards.
Moving forward, representatives from the Warren Village Dam Preservation Trust as well as Friends of the Mad River will be at the select board's meeting next month to debate whether the dam should be repaired or removed and the best course of action with which to go about it.
{loadnavigation}