By Karl Klein
Real estate sales in The Valley started the year strong in the first quarter, slowed during the summer months and have heated up again in the past month. Not unlike the weather in Vermont, you need only wait a short while and everything can change. The number of properties listed for sale in Washington County (Chart A) is on an upward trend, which is pacing demand and holding prices down. Combined sales volume of residential homes and condominiums in the period May through September totaled $16.6 million as compared to $22 million in the same period of 2013 (not adjusted for a $4.5 million residential sale in Waitsfield in September of 2013).
According to NNEREN, our Statewide Multiple Listing Service, 42 homes and 21 condominiums sold during the May 1 to September 30 period. The average sales price of homes and condos combined represented a 13 percent drop over the same period in 2013.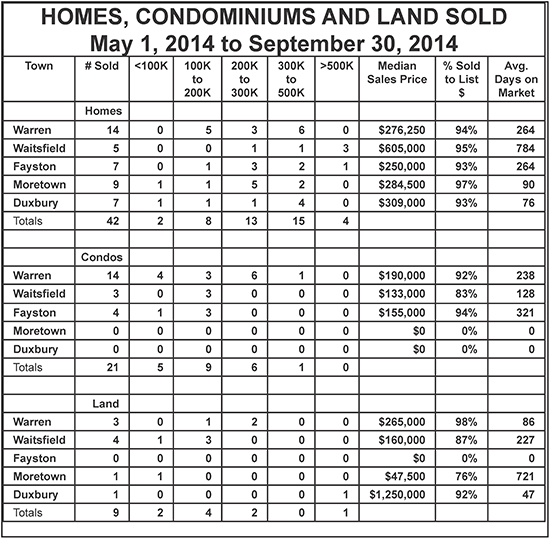 The latter part of the third quarter produced a flurry of activity. In addition to the 42 homes sold in the May to September period, there were an additional 20 pending sales as of September 30 and buyer inquiries and showings have picked up at local offices. Buyers may be motivated by concerns over the potential rise in interest rates, which have hovered at just over 4 percent since the spring. The U.S. economic outlook of October 2014 provided by the NAR (National Association of Realtors) forecasts rates to slowly rise into 2015.
According to the NAR, existing-homes sales nationwide are expected to be stronger in the second half of the year with improved inventory conditions, continued low interest rates and slow price growth. Overall, they forecast existing-homes sales to be down 3 percent this year, compared to sales of existing homes in 2013.1
As I write this, there are 174 homes on the market in The Valley, compared to 150 at the time of my report last year. From a Duxbury camp recently listed for $23,000 to a world-class equestrian facility in Warren for $6.5 million. Remember the Moretown Mountain estate with 83 acres listed at $2,499,000 in my May report? You can buy it now for under $2 million.
Klein is a Realtor/broker at Sugarbush Real Estate.
{loadnavigation}