By Lisa Loomis
Voters in Waitsfield, Warren, Fayston, Moretown and Duxbury returned incumbents Maxine Grad, D-Moretown, and Adam Greshin, I-Warren, to the State House during the November 4 General Election. They were challenged by Ed Read, I- Fayston, and Heidi Spear, I-Fayston.
Greshin was the highest vote-getter, receiving 1,725 votes from the combined voters in the Washington 7 district. Grad followed with 1,698 votes. Read received 1,268 and Spear received 904.
Local voters joined the rest of Washington County in re-electing the three incumbent state senators, Ann Cummings, D-Montpelier; Bill Doyle, R-Montpelier; and Anthony Pollina, P/D-Middlesex. They were challenged by Sandy Gaffney, P/D-Berlin; Dexter Lefavour, R-Middlesex; and Pat McDonald, R-Berlin.
Valley voters gave Cummings 1,772 votes, Doyle 1,714, Pollina 1,736, Gaffney 831, Lefavour 800 and McDonald 1,113. (See chart for town-by-town and county results.)
Valley voters did not follow state trends as closely with their votes for governor and lieutenant governor. At the state level, Lt. Governor Phil Scott, R-Berlin, enjoyed a wide margin over his nearest challenger, Dean Corren, P/D-Burlington. Statewide, Scott received almost 62 percent of the vote, while Corren received almost 36 percent. Locally, Valley voters gave Scott 2,051 votes and Corren 1,083.
With votes for the governor's race still being counted as The Valley Reporter goes to press, locally voters differed from the statewide trends shown when 97.09 percent of votes had been counted. At press time with 97.09 percent of votes counted statewide, the Vermont Secretary of State's website shows incumbent Governor Peter Shumlin, D-East Montpelier, with 46.36 percent of the vote and Scott Milne, R-Pomfret, with 45.08 percent.
Valley voters gave Shumlin 1,593 votes and gave his challenger Milne 1,302 votes. Locally voters gave Peter Diamondstone, LU-Brattleboro, 24 votes; Chris Ericson, I-Chester 27 votes; Dan Feliciano, L-Essex, 141 votes; Bernard Peters, I-Irasburg, 22 votes; and Emily Peyton, I-Putney, 69 votes. (See town-by-town governor and lt. governor results in charts).
Voter turnout throughout The Valley ranged from 47.4 percent to a high of 57.05 percent. Moretown's was the lowest turnout at 47.4 percent. Duxbury had 47.9 percent of voters turn out. Fayston saw 49.15 percent of voters cast ballots. Warren saw 53.65 percent of voters turn out and Waitsfield saw 57.05 percent of voters cast ballots.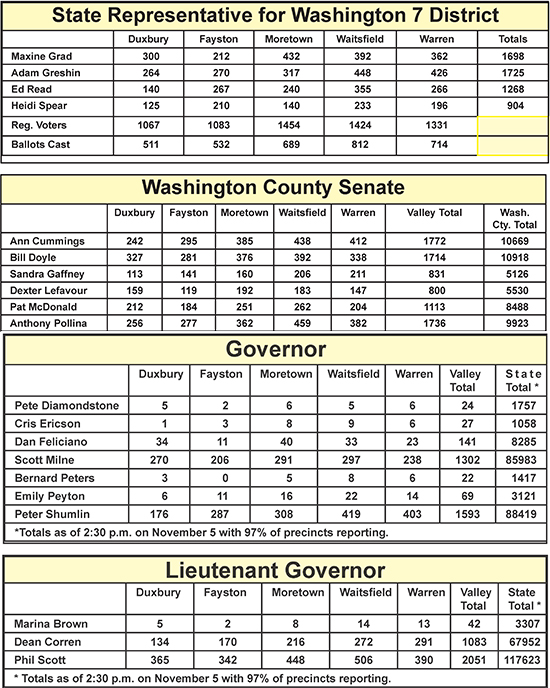 {loadnavigation}