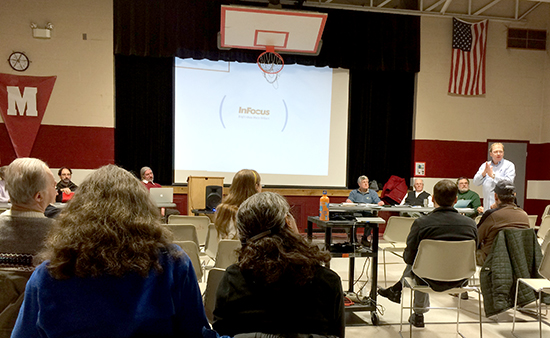 By Rachel Goff
On Tuesday, March 3, Moretown residents approved a budget of $1,062,837, which marks a 0.56 percent decrease from last year. The article was voted on via Australian ballot and, therefore, not eligible for discussion at Town Meeting, but Moretown held a pre-Town Meeting on Monday, March 2, to explain its expenditures.
In this year's budget, town employees received a 2.5 percent raise across the board for this year – the same as employees for the state of Vermont. In 2015, town employees will continue to pay for 0 percent of their health insurance premiums and 50 percent for each of their dependents.
Also included in this year's budgets were bonuses for several town employees, which residents called into question at the pre-Town Meeting. "I just wonder how the road crew feels," one resident said, pointing out the fact that the bonuses they received were less than that of town administrator Cheryl Brown.
The Moretown Select Board replied that the bonuses were proportional to each employee's salary and explained that Brown's position had changed this year, from select board assistant to town administrator, and with that change came added responsibilities. "Cheryl has gotten more grant money for this town than we've ever gotten in the past," select board member John Hoogenboom said, in defense of Brown's $1,000 bonus.
This year, Moretown's zoning administrator received a $10,000 raise, but when asked about the salary increase at pre-Town Meeting, the select board explained that it comes with more hours and more responsibilities, including taking on the role of 911 coordinator and website administrator.
Also included in the budget for 2015 is a new $4,500 stipend for fire department volunteers where previously the town had allotted $0, as well as $12,000 for dispatching services – a 60 percent increase from FY2014. All in all, the fire department's expenditures increased 20.73 percent, from $48,482 for FY2014 to $58,536 for FY2015.
At the pre-Town Meeting on Monday, the select board updated residents on the status of several grants it received from federal and state agencies. Moretown ended 2014 with a deficit of $307,417, as the town is still waiting to receive over $200,000 from a grant it received from the Vermont Agency of Transportation (VTrans) for the reconstruction of Moretown Mountain Road.
As for the construction of the new town offices, "It's moving along," Moretown Town Office Committee chair Clark Amadon told residents on Monday, explaining that the Moretown Development Review Board (DRB) approved the project at the end of February and the town will file wastewater permits with the state this week. Construction of the new town offices will go out to bid "sometime within the next 30 to 60 days, I hope," Amadon said.
Along with the new town offices comes the construction of a new sidewalk in the village that will run along the east side of Route 100B from its intersection with Moretown Mountain Road to its intersection with Hurdle Road.
Moretown received a $375,000 grant from the Vermont Bicycle and Pedestrian Coalition for the construction of the new sidewalk and the select board signed off on the design for the project early this year. "It's moving along," select board chair Tom Martin said. "As it's written up, they're looking at starting next spring on construction ... but that may be accelerated a bit," he said.
Lastly, the town addressed the status of the money it received in the form of tipping fees from Moretown Landfill, which had been held until this year in a special Savings Reserve Fund. In 2014, the town hired Don LaRocca of Moretown to set up a policy for that money, who in turn hired Merchants Bank to invest $500,000 of it.
Now, "hopefully we can use the interest [from that investment] to help lower the amount that has to be raised by taxes" each year, select board member John Hoogenboom said. "It's very important that it was created when it was," he said. "There's not a lot of towns that have that kind of money lying around."
School Meeting
On Tuesday, March 3, Moretown residents voted 192-99 to approve a school budget of $2,221,773, which marks a 4.29 percent increase from last year.
According to Moretown Elementary School principal Duane Pierson, the school's budget "is about as lean as it can be," he said at pre-Town Meeting on Monday, March 2, explaining that about 80 percent of the increase comes from the increased cost of salaries and benefits.
Because salary and benefit costs are fixed, "You don't really have any flexibility at all," one resident said of the school budget. "You try to chew into the little bit that's left," he said, implying that something needs to change.
Indeed, a lack of flexibility due to the increasing cost of health insurance has "definitely gotten the attention of school boards around the state," Harwood school board chair Deb Hunter said on Monday, explaining that many are pushing for statewide subsidies for school employees.
Representatives to the state Legislature Adam Greshin of Warren and Maxine Grad of Moretown also attended Monday's pre-Town Meeting to outline recent developments in education funding reform in Montpelier.
On Thursday, February 26, a first draft of an education funding reform bill passed through the Vermont Senate. That bill will see many more iterations in the coming months, but it gives people "an idea of what we've been working on," Greshin explained.
According to Greshin, the bill continues to encourage administrative consolidation at the supervisory union level, as well as continues to phase out grants and tax subsidies to small schools such as Moretown Elementary.
Right now, the bill also includes a statewide cap on school spending at 2 percent per pupil each year, meaning that schools such as Moretown Elementary with declining enrollments would have to drastically reduce their budgets in order to comply, "but it's only a first draft," Greshin said, explaining that the drastic measure could be reduced in future iterations of the bill.
In the meantime, Moretown Elementary School will continue to develop courses such as its pilot Science, Technology, Engineering and Math (STEM) class for students in grades three through six, and its after-school program, Moretown Education Center for All (MECA). This year, the school has a new ski program and it will build a new playground when construction of the town offices requires demolishing part of its existing one.
Changes at the state level could have an effect on Moretown Elementary School, but right now "I feel very lucky to be the principal here," Pierson said.