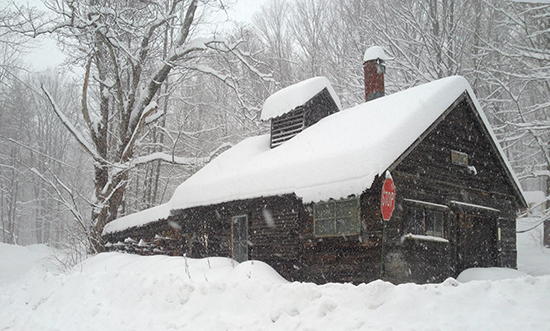 Last month, Warren resident Glenn Cahilly-Bretzin's Kickstarter fundraising campaign to restore an old sugaring orchard in Warren to produce maple syrup met its $5,000 goal.
With that money Cahilly-Bretzin, together with friends Aaron Fournier, Konstantin Sokhan and Garret White, will purchase new equipment for the Westhill Sugar Orchard. According to Cahilly-Bretzin, the trees at the orchard have been tapped for over 60 years, and its sugar shack has become a landmark for visitors and locals alike. Over time, however, the equipment and methods used at the Westhill Sugar Orchard have become old and outmoded and they need replacing.
Cahilly-Bretzin graduated from Harwood Union High School in 2009 and is currently living and making his living as a woodworker. He grew up sugaring with his family and Cahilly-Bretzin acquired permission to use the Westhill Sugar Orchard from Carol Livingston after her brother and the property's former owner, Arnold, passed away in 2012. According to Cahilly-Bretzin, Livingston was a good neighbor and friend who wanted to see his woods maintained as a sugar orchard even after his death.
To start, Cahilly-Bretzin plans to put in 100 taps at the Westhill Sugar Orchard, which should produce about 25 gallons of maple syrup and add more each year. Eventually, the eight-acre property can accommodate upward of 1,500 taps.
Moving forward, "We are committed to maintaining the original character of the orchard and producing pure high-quality Vermont maple syrup," Cahilly-Bretzin wrote of the project on its Kickstarter page. "We are also dedicated to creating a sustainable and environmentally friendly sugaring operation on Westhill."