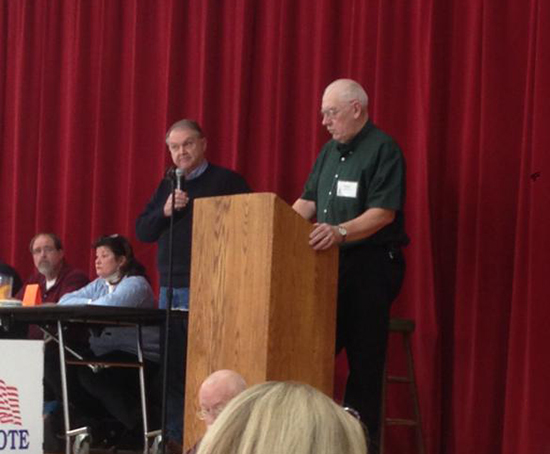 (Links to individual town meetings below)
Waitsfield voters re-elected Paul Hartshorn to the select board. He ran unopposed for a three-year term. Voters are sending Kari Dolan to sit at the board's Monday night meetings, starting this month. She and Jerry Miller ran against current select board member Chris Pierson for a two-year term on the board. Dolan received 340 votes to Miller's 66 and Pierson's 69. Hartshorn received 398 votes.
Change was in the air in Duxbury. From the floor of Town Meeting, current select board member Mo LaVanway resigned, creating an open seat. John Murphy ran against Betty Gibbs for the one-year term. That race was decided by a paper ballot, with Murphy receiving 70 votes to Gibb's 44 votes.
Current board member Amy Scharf was elected from the floor with no challenger to her three-year term on the Duxbury Select Board. Current board member Marty Wells won re-election in a race against Keith Marino. That race was settled by paper ballot with Wells receiving 87 votes to Marino's 24 votes.
When Dick Charland, who served as Duxbury Select Board chair for many years, was nominated for another term, he declined the nomination, leading to another paper ballot for his seat on the board. That race saw Gibbs prevail over Marino, 82-19, to win a one-year term.
In Warren, current select board members Matt Groom's and Colleen Mari Mays' terms were up this year and the two did not run for re-election. Anson Montgomery also resigned this year with two years left in his three-year term, leaving the town with three seats to fill.
On Town Meeting Day, residents elected Randy Graves to carry out the remainder of Montgomery's term and Clay Mays to fill a three-year term on the Warren Select Board. For the remaining two-year term, Luke Youmell beat out Charlie Snow, who ran as a write-in candidate, 173-42, via Australian ballot.
In Moretown, current select board member Tom Martin was re-elected to a one-year term as was Michelle Beard. The town is still looking for someone to fill a three-year term that was vacated this year by Reed Korrow.
Of all The Valley towns, Fayston saw the least change in its local government. Via voice vote, residents re-elected long-serving select board member and chair Jared Cadwell to a three-year term.