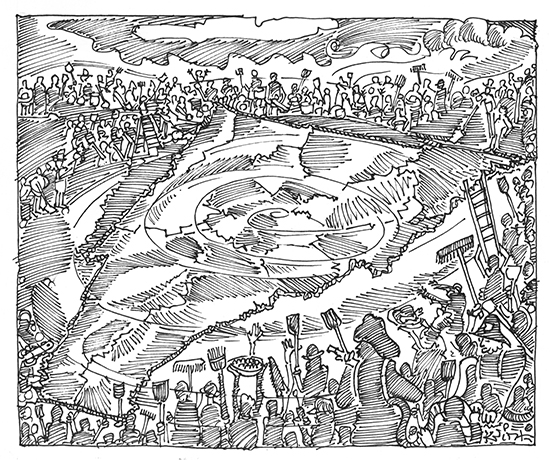 By Lisa Loomis
Editor's Note: In the interest of full disclosure, this is a review of an exhibit of 25 years of editorial cartoons by The Valley Reporter's cartoonist Keith Davidson, by editor Lisa Loomis. The bias is real, not imagined. We love Keith's work.
The Madsonian Museum on Bridge Street in Waitsfield is hosting an exhibit of Moretown resident Keith Davidson's editorial cartoons for The Valley Reporter. At first glance, the exhibit is visually overwhelming, as 25 years of weekly cartoons are mounted on the walls of two and a half rooms with zero white space between the cartoons.
But then visitors will be drawn in and start reading the cartoons, which exhibit Davidson's unique sense of humor, coupled with his deep understanding of this community and the world beyond it.
And after a few walls worth of cartoons, which are roughly grouped into topic areas like winter, summer, the Bush-Cheney era (!), local politics, local towns and local weather (to name a few), visitors will find their recollections of things that have occurred here reinvigorated.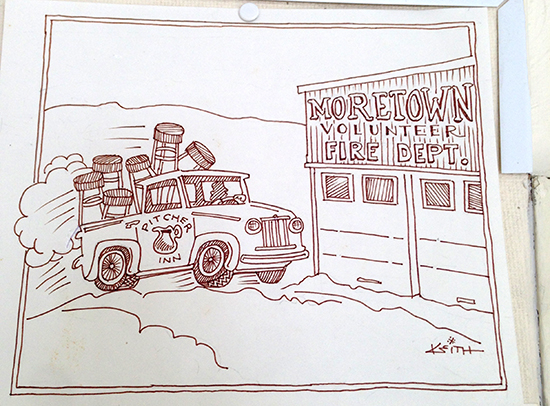 It's funny to read the cartoons and recall how Davidson's sense of humor handled the long battle over whether there should be barstools downstairs in the bar at The Pitcher Inn. And then to see his take on what happened when the Moretown Fire Department got in trouble for firefighters drinking beer after training at the fire station. The same barstools that appeared in a cartoon, larger than life in Warren, with the caption "The barstools that destroyed Warren Village" appear in a pickup truck driving by a sign pointing to Moretown.
The hyper-locality of Davidson's cartoons is what makes some of them so very, very funny. He manages to take a look at the foibles of the local folks and their officials and their efforts and make those things funny. Who remembers his cartoon depicting the impossibility of Hadley Gaylord's chickens to cross the road and get served for dinner at American Flatbread?
And what about his cartoon the week after Tropical Storm Irene devastated Vermont? He drew the state of Vermont with a hurricane raging over it. Surrounding the circle were scores of people coming to help with mud boots, shovels, ladders and buckets. It was moving then and it is still moving.
The exhibit is like taking a tour of 25 years of history rendered through Davidson's pen and it is both thought-provoking and hilarious. It's funny to see the things that The Valley Reporter took so seriously on its news pages, turned, by the passage of time, into humor.
Davidson, who is also an artist and musician in his own right, got his start with The Valley Reporter as a graphic designer when newspaper owner (and former editor/publisher) Al Benjamin asked him to draw a cartoon depicting a specific event. Benjamin then asked him to continue creating the cartoons, giving him complete editorial license, an act which Davidson said was critical to the success of the cartoons.
Twenty-five years later, the staff of this newspaper looks forward to Davidson's arrival with his weekly cartoon. Sometimes they laugh out loud, sometimes they scratch their heads and sometimes they cringe a little bit in anticipation of reader reaction. But they don't change his work.
The Madsonian is open from noon to 4 p.m. on Fridays, Saturdays and Sundays. It's worth the time to take a stroll through the rooms.