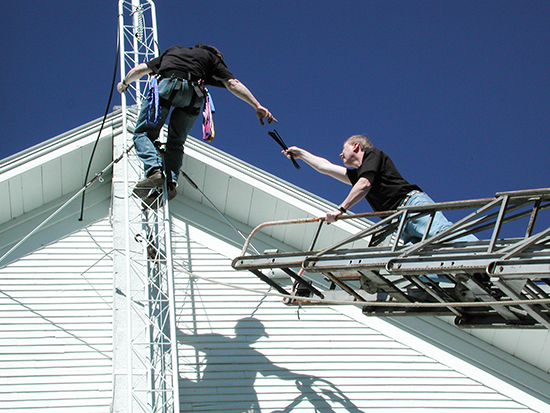 The bumper sticker for WMRW 95.1 FM riffs on the famous red-and-white slogan for Mad River Glen ski area. Instead of "ski it if you can," it's "hear it if you can," a reference to the community radio station's unfortunate frequency and to the fact that many in The Valley, despite living only a few miles from the tower, are not able to pick up its signal. But hopefully that will soon change.
In 2013, WMRW received approval from the Federal Communications Commission (FCC) to switch to a different frequency – 94.5 FM – that should reach the entire Mad River Valley and maybe even beyond. "Except for the people in the deepest hollows, it should go about 30 or 40 miles," WMRW director John Barkhausen said of the station's new range. It may seem surprising, but "it's very crowded here in Central Vermont, frequency-wise," he said.
When Barkhausen was first starting WMRW back in 2004, he had two different frequencies to choose from. He chose 95.1 FM, not knowing that just a few months before, the Canadian Broadcasting Company (CBC) had also begun broadcasting at 95.1 FM of Montreal. They hadn't shown up in the FCC database and WMRW didn't have the option of switching frequencies after it found out about the overlap. "That was very disappointing," Barkhausen said. Now, some parts of The Valley pick up programming from WMRW and some parts pick up programming from the French-speaking station.
In switching to 94.5 FM, WMRW should come in "pretty clear," Barkhausen said, explaining that the nearest stations that broadcast at that frequency are based out of Richmond and Rutland. In order to use the new frequency, however, WMRW will have to build a new tower three miles north of its current location at East Warren Schoolhouse and private landowners at the intersection of Common Road and East Warren Road have agreed to let the station use their property.
Earlier this year, the Waitsfield Development Review Board (DRB) held a hearing concerning WMRW's application for a conditional use permit to build the new tower, which will also be used by the Waitsfield Volunteer Fire Department. The DRB has yet to issue an official verdict on the application, "but the hearing went well, so I'm hopeful," Barkhausen said.
In the meantime, WMRW is raising money to cover the costs of building the new tower, which Barkhausen said could be as much as $25,000. "We're picking away at it," he said, but the station still needs more donations.
Right now, WMRW has 48 volunteer disc jockeys, most of whom live locally and make an effort to highlight local news or events on their weekly shows in the form of interviews or Public Service Announcements (PSAs). The station is "a great community resource," Barkhausen said, "both for individuals who believe in independent and free-format radio and for organizations," he said, "because we're open to any organization that's a non-commercial entity doing a show."
On Friday, March 13, at 6 p.m. at the Big Picture Theater in Waitsfield, WMRW is hosting a fundraiser concert featuring The Kind Buds, the Eames Brothers Band and the Big Basin Band. Tickets are available at the door.
To make a donation to support WMRW, visit wmrw.org and click on the pig to pay via credit card or PayPal. Listeners can also mail checks made out to WRMW to P.O. Box 85, Warren, VT 05674 or can drop them off at the station when a DJ is present. Businesses can support WMRW by becoming an underwriter (email This email address is being protected from spambots. You need JavaScript enabled to view it.).