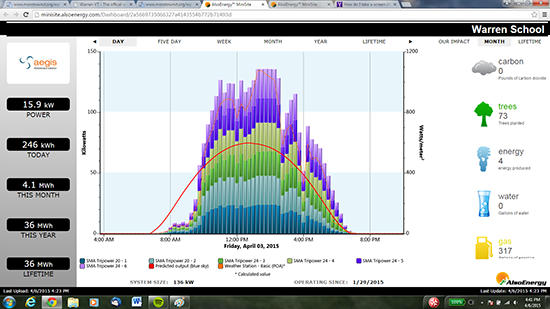 By Rachel Goff
Coming into sunnier months, interfaces for Warren and Waitsfield's new municipal solar arrays are available online. Now, residents can see how much power is being produced by the panels at any given moment simply by visiting the towns' websites.
According to the interfaces, which are hosted by Also Energy, Warren's 136 kW array has produced 35.9 mWh of energy since it started recording data on January 29 of this year. Waitsfield's 82 kW array has produced 16 mWh of energy since it started recording data on January 19 of this year.
In addition to yearly, monthly, daily and hourly energy output graphs, visitors to the site can also view the effect of the arrays on the environment, including how many gallons of gas and pounds of methane they've prevented from entering the atmosphere.
When first presenting the solar array projects to the towns two years ago, Nils Behn of Aegis Renewable Energy in Waitsfield explained that having the interfaces available online would make the arrays a useful learning tool for local elementary school teachers, who could incorporate them into lessons on renewable energy.
In May of 2014, Warren residents approved $462,829 (subject to reduction by grants) for the installation of the array on Brooks Field at Warren Elementary School. The town received an $80,000 grant from the Vermont Clean Energy Development Fund for the array, as did the town of Waitsfield, for which residents approved $306,609 for the installation of the array at the town garage on Tremblay Road.
Both arrays were installed by Aegis Renewable Energy over the summer of 2015 and were tied into the grid that September. For more information and to see how much energy the arrays are producing in real time, links to the interfaces are available at the towns' websites, warrenvt.org and waitsfieldvt.us.