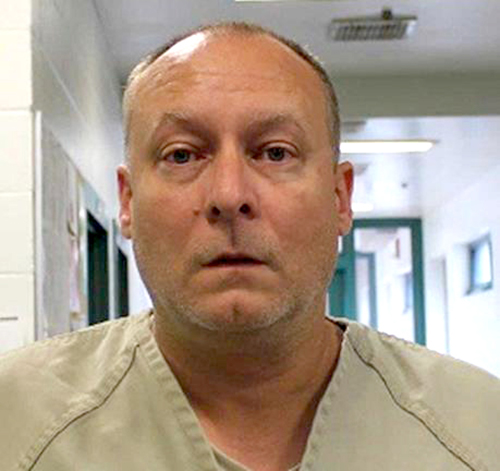 On Thursday, April 9, Richard Laws was released from Northeast Regional Correctional Facility in St. Johnsbury.
After attacking Warren resident Sue Russell in 1992, Laws was charged and convicted of kidnapping, aggravated sexual assault and aggravated physical assault. He was sentenced to prison for 25 to 30 years and was released Thursday after maxing out his sentence at 23 years.
In anticipation of Laws' release, Valley residents attended a "Come, Unite!" community awareness meeting in support of Russell and other victims of violent crime on Wednesday, April 8, as The Valley Reporter went to press. Organizers also created teal ribbons in support of victims of sexual violence and have those ribbons displayed throughout The Valley.
According to The Valley's representative to the state Legislature Maxine Grad of Moretown, because of a bill passed this year Laws was required to notify authorities of where he plans to go prior to his release, as opposed to three days after. Additionally, Laws will be required to check in daily, via telephone, with the Vermont Department of Public Safety.
Earlier this week, Laws said he expects to go to Montpelier, although "He is saying he will be homeless," Grad said.
On April 8, Burlington Police Department said it was notified by the Vermont Department of Corrections that Laws now planned to go to Burlington after being released.
During a press conference that took place on Tuesday, April 7, at Barre City Hall, Montpelier and Barre police said that while they hope to convince Laws to live elsewhere, they are preparing for his arrival in the capital city.
"Gender- and sexual-based violence has no place in our society and we are going to do everything we can to protect the society we are sworn to do so," said Montpelier Police Chief Anthony Facos, who has assigned one of his sergeants to reach out to Laws and maintain a connection with him if he does come to Montpelier.
Laws is considered a high-risk sex offender and law enforcement in both Montpelier and Barre are passing out fliers in neighborhoods so that residents can recognize his face. Some businesses are even going so far as to file a "no trespassing" restraint on Laws so that he cannot cross their premises.
Meanwhile, Russell has filed a "final order against stalking or sexual assault" that requires Laws to stay away from her and from the towns of Warren, Waitsfield and Fayston for 10 years.