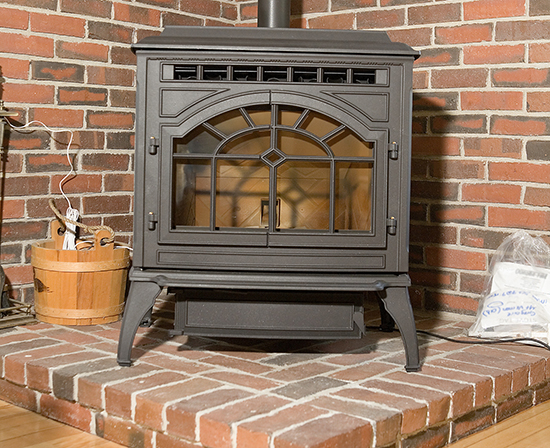 By Rachel Goff
In response to a town effort to increase fire safety, Warren residents are getting a little heated.
This past week, a letter went out to condo owners in Sugarbush Village notifying them of an ordinance that would ban the use of wood-burning fireplaces and stoves in multi-unit buildings on the mountain.
The Warren Select Board discussed the idea for the ordinance at a meeting in January after a fire at Summit Condos in Sugarbush Village last December resulted in damage that took two units out of the rental rotation. In February of 2014, 36 units were destroyed due to a fire at Mountainside Condominiums, just up the road.
With the exception of the resort's most recent developments, most of the lodging in Sugarbush Village was constructed in the 1960s and 1970s, when building codes were very different than what they are now. Newer developments on the mountain, such as Rice Brook Condominiums that were completed in 2014, don't have any wood-burning fireplaces or stoves.
"I think that with construction methods today, gas is a cheaper and safer alternative," Warren Volunteer Fire Department chief Peter DeFreest said. Vermont State Police traced the source of the Mountainside Condominiums' fire back to the building's fireplace inserts, which are known to heat up over time.
After December, Summit Condominium Association was put under a no-burn order from the state, but in order to avoid future fires, the select board agreed to look into establishing a no-burn order for all resort lodging.
The ordinance, which was drawn up by the Warren Volunteer Fire Department, Warren zoning administrator Miron Malboeuf and Warren town administrator Cindi Hartshorn-Jones, states that fireplaces, wood, coal and pellet-burning stoves and any other free-standing appliance that uses fuel other than natural gas or electricity will not be allowed in individual units of multi-unit buildings.
In addition, the ordinance states that condo owners or property managers will be required to register and maintain fire alarms and will be responsible for paying a fine if their alarm is activated by accident or because of unsuited equipment. According to the ordinance, no penalty will be imposed against the user for the first false alarm within a 12-month period, except for false alarms from unregistered systems. The penalty for the second offense for false alarms within a 12-month period will be $200 and the penalty for the third and subsequent offenses will be $300.
"The Warren Volunteer Fire Department has indicated that human error or mechanical malfunctions of fire alarms and CO2 alarms in the town of Warren have resulted in a signification number of false alarms being signaled to which the fire department must respond," the ordinance states, in explaining the reason for the fine.
According to the fire department, "The emergency response to each false alarm requires the deployment of personnel and vehicles to nonemergency situations and effectively removes that personnel and equipment from the designated service of protecting life and properties and causes unnecessary expenditure of public funds," the ordinance states. "Reasonable regulation of the alarms should result in the significant decrease in false alarms [which will save] public resources … and enhance public health, safety and welfare."
The Warren Select Board will hold a public hearing on the ordinance at their meeting on Tuesday, April 28, at 7 p.m. Moving forward, "It's probably going to be divided up into two separate ordinances," Hartshorn-Jones explained: one for the wood-burning fireplaces and one for the false alarms.
If that happens, the ordinance for wood-burning fireplaces would go to the Warren Planning Commission for adoption and incorporation into the town's zoning regulations. Likewise, the false alarm ordinance would go to the planning commission, or it could be adopted by the select board, Hartshorn-Jones said.
Already, Lincoln Peak Properties, LLC, has sent a letter to its condo owners regarding the ordinance. "It is clear that the overwhelming belief is an ordinance such as this would have a terribly negative impact on the Sugarbush community," Lincoln Peak property manager Tim Hultgren wrote, explaining that while the company agrees with the effort to create a safer environment, "Banning wood-burning fireplaces and stoves in multi-unit dwellings goes beyond what is reasonable," he said.
Instead, Lincoln Peak Properties has proposed "several workable solutions," Hultgren said, including increased and more thorough inspections of systems. He plans to present those alternatives to an outright ban at this Tuesday's meeting.