Waitsfield will install a railing on the inside corner of the intersection of the Main Street sidewalk and the Bridge Street sidewalk.
Prior to the construction of the Main Street sidewalk, there was a segment of dirt where one walkable area joined another. When the sidewalk was constructed and the Bridge Street sidewalk extended, the two areas were joined, taking a sharp, steep turn from Main Street to Bridge Street.
Not only is the pitch steep, but it also angles sharply to the inside corner, leaving what local business owners say is a dangerous, unmanageable corner where customers have been injured. Cheryl Bernard, owner of A Right Cut in the Waitsfield Hotel building on the corner, approached the town earlier this summer with a request that the issue be addressed.
She cited examples of clients falling on that corner during winter months and asked that the corner be fixed.
There used to be a step up when walking onto Main Street, but when the sidewalks were constructed, the two sections were joined for handicapped accessibility. The town brought the issue to its engineer, Evan Detrick, who concurred that it was a challenging section. He said that returning to steps would remove the accessibility.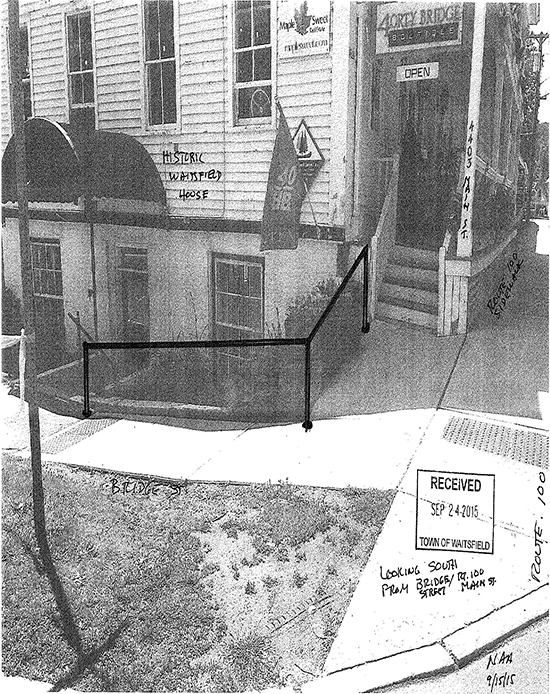 The select board, at a September 28 meeting, discussed the issue and determined that it was appropriate for the town to pay for and install a railing on the inside corner of that intersection.
The estimated cost is $1,500 and the railing will resemble the railing outside the Joslin Memorial Library on the opposite corner.