Is it appropriate for a town to invest in a building with religious affiliations?
That question came before the Waitsfield Select Board at their meeting on September 28 when Bill Gallup, on behalf of Waitsfield United Church of Christ, approached the board requesting financial support in planning for renovations to the historic structure.
Waitsfield United Church of Christ, an iconic aspect of Waitsfield Village, would be used for ongoing faith-based activities, "but we equally support things that have no religious affiliation, Gallup said, explaining that the building is host to art shows, dinners, fundraisers and countless other community events.
In addition to being called Waitsfield United Church of Christ, the building has the "additional legal name of the 'Village Meeting House,'" Gallup said, highlighting the structure's nonsecular nature.
Gallup is co-chairing the committee that is planning for renovations to the Village Meeting House, which include removing its unheated shed and enlarging its back wing to make room for more public bathrooms. Right now, the building has two small, non-handicapped-accessible toilets, when based on its occupancy, "It should have six times that," Gallup explained.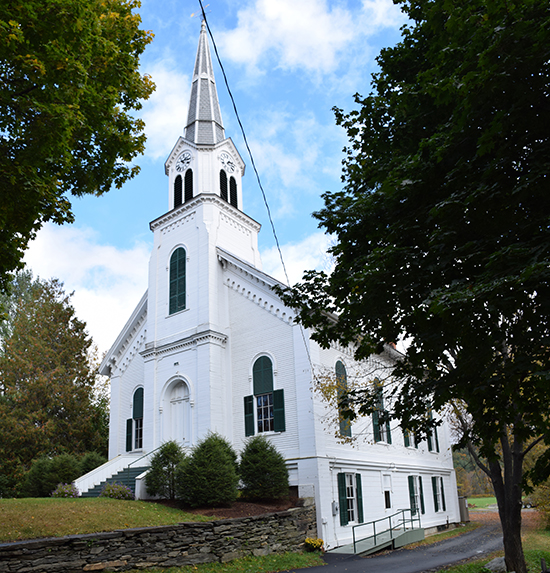 To offset the cost of renovations, the committee is applying for a Vermont Community Development Block Grant for which it expects it will have "a compelling application for some substantial monies," Gallup told the board. But the application would be made even more compelling, Gallup said, if the town were to show "some financial support" for the property.
And so, Gallup suggested that the town of Waitsfield make a one-time donation of $1,500 to the Village Meeting House that could – with taxpayers' blessing – become an annual contribution.
"Considering the community benefit ... I think this is a no-brainer," select board member Logan Cooke said, to which select board member Scott Kingsbury responded.
"What kind of precedent do you think that sets?" Kingsbury asked of the suggested donation. "I know there's other churches in town and there's other organizations that do lots for the community."
The difference between Waitsfield United Church of Christ and other places of worship "is that this is one of the most historic buildings in the village," Gallup said. "Many, many people have the expectation that somehow it will be sustained and just be there for them and their children and their grandchildren," he said, when in reality its upkeep is expensive.
Select board member Sal Spinosa said if the town is to give money to Waitsfield United Chruch of Christ, "The financial support is not for religious services," he said. "It's really important that that's clear."
In the end, the select board moved to support the inclusion of the donation as a line item on the budget, to be voted on by taxpayers at Town Meeting in March 2016.