Waitsfield United Church of Christ (WUCC) Village Meeting House received a Vermont Community Development Block Grant to help flood proof the building and improve safety as well as accessibility.
The receipt of the $264,182 grant comes as the church community has a capital campaign under way. The Waitsfield United Church of Christ campaign, Building to Serve, kicked off late last year and seeks to raise $375,000 over and above the grant to preserve, conserve and improve the building.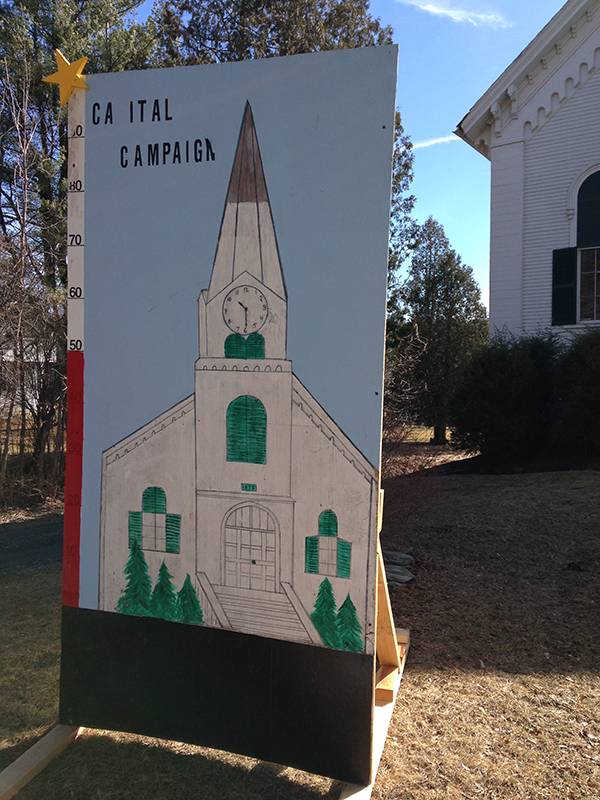 In 2014, WUCC worked with Partners for Sacred Places, a national, nonsectarian, nonprofit organization, to interview community members and determine to what degree the community would support repairing the church and making it a more focal part of the community.
Through that work the WUCC congregation learned that close to $700,000 in building improvements were needed. Partners for Sacred Places estimated that the community support a campaign to raise $375,000. Congregants and the capital campaign steering committee narrowed their list of improvements to include:
-$19,000, Install fire alarm system to meet state code and improve safety.
-$36,000, Reduce the invasion of floodwaters into the basement to prevent further weakening of foundation's structural integrity.
-$27,000, Improve moisture and air quality control by covering the dirt floor in the basement with a moisture barrier and concrete slab.
-$25,000, Create a new unisex ADA accessible bathroom within the existing building footprint.
-$72,000, Repair slate roof.
-$142,000, Improve and expand community dining and meeting space, providing flexible venue for both large and small gatherings and private meetings.
-$54,000, Renovate communal kitchen.
"I am pleased and not at all surprised the Village Meeting House was selected to be among this round of Community Development Block Grant recipients. The steering committee successfully demonstrated the growing role played by the Village Meeting House in the Mad River Valley community," said state Representative Adam Greshin, Warren, who also serves on the steering committee.
The grant funds add to the anticipated $375,000 that will be raised by the Building to Serve Capital Campaign and allow for flood mitigation, accessibility and safety measures that could not be accomplished under the capital campaign. The grant funds mean that the following items can be added to the scope of work:
Insulation of basement walls and installation of an air and moisture barrier system.
Removal of all mechanical and electrical systems from the previously flood-prone basement and installation of new systems located above the 100-year flood level.
Enlargement of the back wing of the building to accommodate separate men's and women's accessible bathrooms.
Replacement of the steep and noncompliant exit stair in the back wing of the building with a new safe exit stair.
Enlargement and renovation of the second floor level of the back wing to create an administrative office that will be available for community use.
These additional improvements were estimated at $275,000. The $264,182 Disaster Recovery Implementation Grant comes close to covering the complete cost of these flood and safety enhancements.
To date, the Building to Serve Capital Campaign is about halfway to its $375,000 goal through pledges from congregants, community members and visitors. Serving on the steering committee are Jon Jamieson (co-chair), Bill Gallup (co-chair), Anne Bordonaro, Andrew Cunningham, Vince Gauthier, Susan Graham, Adam Greshin, Roy Hadden, Gary Kingsbury, Nancy McHugh, Peggy Stokes, Josh Schwartz and Liza Walker.
Contributions can be made through the church's website, www.waitsfieldchurch.org, or by mailing a check to Waitsfield United Church of Christ, Village Meeting House, Building to Serve, P.O. Box 16, Waitsfield, VT 05673. For additional information, please contact the church at (802) 496-3065.