The Mad River Valley community was challenged by Sugarbush president Win Smith to match his $10,000 gift to complete the purchase of a 2,000-acre addition to Camel's Hump State Park, the Dowsville Headwaters.
Last week, the Mad River Valley Rotary helped meet that challenge when members granted the Trust for Public Land $5,000 toward the Dowsville Headwaters Project, a pending conservation acquisition in Duxbury.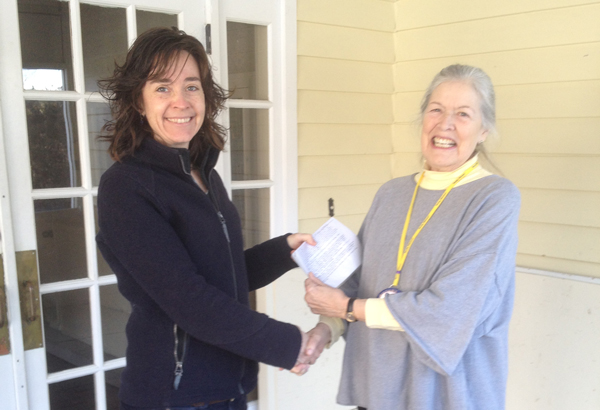 "The Mad River Valley Rotary Club is pleased to support the Trust for Public Land in conserving the Dowsville Brook Headwaters. The Dowsville Brook Headwaters are a vital part of the Mad River watershed, offering superb opportunities for hiking, biking, walking, hunting and other recreational activities vital to the economy and well-being of our community," said Rotary president Chris Pierson.
"The response to Win's challenge has been fantastic," commented Kate Wanner, project manager at the Trust for Public Land. "Not only did the Rotary step up by granting $5,000 to the project, but we received gifts from 10 other community members, as well as the Cabot Creamery Cooperative. These gifts closed the gap and allowed us to move toward transferring this land to the state, expanding Camel's Hump State Park."
As The Valley Reporter went to press on Wednesday, March 30, the Trust for Public Land and state of Vermont were preparing to close.
In addition to these recent donations from the Rotary and the community, the acquisition was made possible by a grant from the federal Forest Legacy program, as well as grants from the Lintilhac Foundation, Winthrop Smith Family Foundation, Eddy Foundation, Oakland Foundation and 38 individual donors. The purchase price of $2.27 million was determined by an independent appraiser. The parcel was purchased from Wisconsin-based Forecastle Timber Co. LLC which owned the land since 2002.
The public is invited to celebrate the acquisition at a benefit bake at American Flatbread in Waitsfield on April 15, from 5 to 9:30 p.m. A portion of the proceeds from every flatbread sold will go toward the creation of a parking area on the property at the end of Ward Hill Road to improve public access.