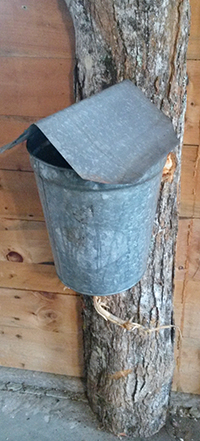 On Friday, April, 1 through Sunday, April 3, from 11 a.m. to 4 p.m., Hartshorn Farm will host the first annual Mad River Valley Maple Festival at the roadside sugarhouse on Route 100 in Waitsfield. Visitors will learn how maple syrup was first discovered, what it takes to turn sap into syrup and watch sap boiled into syrup. There will be tastings of sap and syrup, and Lawson's Finest and Mad River Distillers maple cocktails will be available. Other maple fare includes maple candy and cream, cotton candy, milkshakes, maple drizzled ice cream, creemees, American Flatbread's maple sausage on pizza, baked goods, Tonewood Maple products and homemade maple soap that will be available for purchase. Katie Webster, author of the new book Maple, will be signing books and sampling one of her recipes, and Kayleigh Hamel will be offering ox-drawn carriage rides. In addition to the event at the farm, multiple businesses around The Valley are participating.
"In an effort to get some economic vitality back into The Valley, after losing the horse show, winter carnival and triathlon, we thought that we could use the gift of maple to get some of that excitement back," said Dave Hartshorn, owner of Hartshorn Organic Farm.
Other businesses in The Valley will be celebrating maple as well. Maple will be featured at Mad River Massage in a maple body scrub. Maple goodies will be available at Mehuron's, Three Mountain Cafe, The Hyde Away restaurant, Big Ridge Tavern and Grille at The Bridges, Village Grocery and Big Picture Theater. There will also be discounts on select items at Peanut and Mouse and rooms at the Mad River Barn for the maple festival.