"He's overwhelmed. He never dreamed that saving his pennies for a diabetic service dog would get him so far," said Jenni Heath, Waitsfield, regarding multiple successful fundraisers for her son, Aiden, 8.
A March 17 story in The Valley Reporter about the redheaded 8-year-old saving every cent he could from the time he was 4 years old resulted in many local organizations and individuals collecting funds to help him make a deposit on and then pay for his service dog. Service dogs cost $15,000.
The fundraisers included coin and check drops at local businesses as well as charitable organizations and even a penny war at Waitsfield Telecom. A family friend created a GoFundMe page for Aiden and local supporters were able to get the local ABC news affiliate to interview him, which then went national, leading to a surge in online giving at the GoFundMe site.
While all that was taking place, Aiden and his family were able to make a deposit on the dog, which he had named Angel, sight-unseen. The dog is currently being trained by Diabetic Service Dogs of America in Nevada and the dog selected for Aiden is a female chocolate Lab.
Although Aiden had asked for a yellow Lab, when Diabetic Services Dogs said they had a chocolate Lab that they thought might be a better fit, Aiden was willing to consider her.
"Aiden took one look at her via the computer, listened about her characteristics and said, 'I don't care about the color! It's just a color. ... She's the one; she's my dog! I want her. Can she be mine?!' He was pointing and referring to a chocolate Lab named Bella on the screen at that point as he's stating that. Aiden is over the moon with excitement. So far we have 10 pictures of her and we will get more each week and videos. Aiden can't take his eyes off the pictures! He's so excited. She may not be the yellow Lab he asked for, but she stole his heart and that's enough for us," his mom said.
Angel's pictures graced poster boards that Aiden put up at Vermont Dog Rescue/For the Love of Dogs' event at Three Mountain Café in Waitsfield on April 1.
At that event, Aiden and a friend roamed from dog to dog, petting and playing with the dogs that were there and available for adoption as well as dogs who had been adopted through that organization and returned as alumni to visit the new dogs. Vermont Dog Rescue/For the Love of Dogs presented Aiden and his mother with a $1,000 check toward his dog.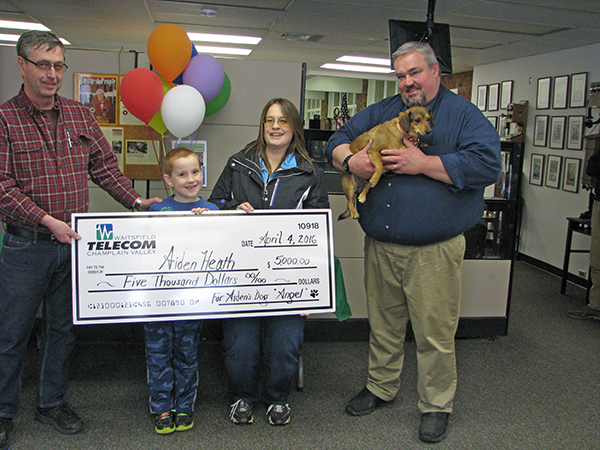 Several days later, employees (and dogs) of Waitsfield and Champlain Valley Telecom met with Aiden and his mom. Phone company employees in Waitsfield and Hinesburg collected $2,500 through their own penny war and the phone company matched that so that Aiden was handed a check for $5,000 on April 4.
In the meantime, the GoFundMe account had reached over $22,000.
"We read the comments from a lot of the people who contributed online and he got teary eyed and cried, not only because of the support but also because of the realization that there are a lot of other diabetics out there who are supporting him," Heath said.
Given the overwhelming support from the community and the GoFundMe contributors, Aiden asked his mom if he could donate some of the extra money to another person who needs a dog.
"He's always got a pay-it-forward mindset," his mother said.
They considered taking a trip this summer to Nevada to visit the dog but decided against it.
"We're not sure going to see the dog is good for him right now. Right now he has a lot of patience about waiting seven or eight months for Angel. If we go visit and don't bring the dog home he may lose his patience. I think as long as he can see the videos and pictures, he'll be able to follow the dog and wait until she is ready," Jenni Heath explained.
"We had no idea that the response to the story about Aiden would be like this. I thought it was just about a boy saving his pennies and even Aiden did. It's still hard for him to process that this is as big as it is. He feels the love from his community. And when the story went national, he felt it from everybody," she said.
"What a beautiful, supportive community this is. We cannot say thank you enough to all those on this journey with us," she added.