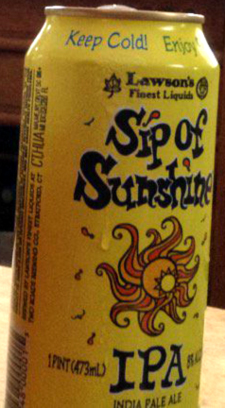 Here's news that will thrill beer lovers near and far! Award-winning microbrewery Lawson's Finest Liquids is moving from Warren to Waitsfield where the craft beer company will open a new (much larger) brewery, open a tasting room and offer retail sales.
Company owners and founders Sean and Karen Lawson brought their plans to The Valley Reporter this week to explain how they got to this point.
"We are in the process of starting permitting to build a brewery, tasting room, retail store, offices and community room on Carroll Road where Valley Rent-All is," Sean Lawson said.
"It's going to take about a year to do the permitting and planning and then we'll purchase the property. Then it will take about another six months to a year to do the design and remodeling," he said.
They will be moving their craft beer-making operation from 280 square feet near their home in Warren to the 7,500-square-foot warehouse in Waitsfield, which means more beer as well as employees and new equipment. Right now Sean handles the brewing with help from his wife and their daughters with volunteer help on bottling day.
Currently, Lawson's Finest is producing 350 barrels per year – or about 50 cases and 20 five-gallon kegs a week. They currently have a 7 bbl brewery (bbl = 1 U.S. barrel, or 31 gallons). In the new space they anticipate having a 30 bbl brewery.
Their plans are contingent on the completion of the Winter Park Community wastewater system, which is expected to be completed this June.
"We've given ourselves a whole year to get through this process. We want to be completely transparent with our community as we go through this process," Sean said.
Lawson's Finest was founded eight years ago by Sean, a longtime homebrewer and the director of Mad River Glen's Naturalist Program, a title he still holds. Since its inception, his beers have captured the fancy of beer lovers near and far, creating a cult-like following to go with the many awards and honors Lawson's Finest has received.
Sean and Karen, parents of daughters, 11 and 7, have refused to let the popularity of the beer pressure them into moving faster than they were ready.
"We kept it intentionally small scale to preserve our time as a family. I can walk to work, zip out and get the girls from the school bus. By the time we get going in Waitsfield, they'll be two years older and that much more independent," Sean said.
"We're also aware of the work that The Valley has been doing on economic vitality and with the decentralized community wastewater systems. The stars are aligned for us now," he said.
"We have expected to grow, but we wanted it to be on our terms. Our quality of life has been our driver and now we're able to consider this and we're ready to make Waitsfield our new home," Karen added.
Several things over the past few years have made them more willing to take the next step in terms of growing the business. One is their work with the Mad River Food Hub in Waitsfield where they partner for distribution. Distribution as well as dry and refrigerated storage at the food hub have been critical they said. Secondly, their work with Two Roads Brewery in Connecticut where they produce Sip of Sunshine has given them the confidence that they can take on a larger operation and have the ability to sell that additional product while they move forward with this project.
And that work will continue. Lest anyone worry that there will be an interruption in good beer, Sean will be brewing his regular amounts of beer throughout this ramp-up process.
"One of the things that's been missing from our business is the fact that people can't get to the brewery and take the tour and meet the brewer; people want that," Sean said.
As they undertake the permitting and design process, one of their first tasks will be to hire someone to help them with that process. They look forward to hiring employees and contributing to the employment base of The Valley and also to creating a destination in The Valley for beer lovers.
Sean currently serves as president of the Vermont Brewers Association and he's bullish on beer's contribution to the Vermont economy and its potential contribution to The Valley's economy.
Beer, he said, is responsible for over 1.5 million visitors to Vermont each year, over 1,000 jobs at 44 breweries plus $5 million that the state collects in a malt beverage tax. That figure does not include the $300 million in beer sales each year and the sales tax that generates.
Sean, 45, and Karen, 42, met on a "romantic snowshoe at Mad River Glen." (They finished each other's sentences.) Sean still runs the Naturalist Program at Mad River Glen, something he intends to keep doing because he loves the connection to the mountain and the community.
They both attended UVM – but not together. Karen at one point took classes from one of Sean's uncles. They were married in 2001 and will celebrate 15 years together this August. They have two daughters, Ava and Jade.