The barn at Lareau Farm in Waitsfield has been raised a foot from the ground awaiting a new foundation and other repairs after standing for more than two centuries.
The project will include repairs of the damaged roof, frame and foundation. "The barn is headed in the wrong direction," Lareau Farm and American Flatbread owner George Schenk said. "It would eventually fall."
Schenk would like to see the barn "preserved into the 22nd century." It is currently used to store food and host meetings and events. He said that the legacy of the Lareau property is, above all else, stewardship.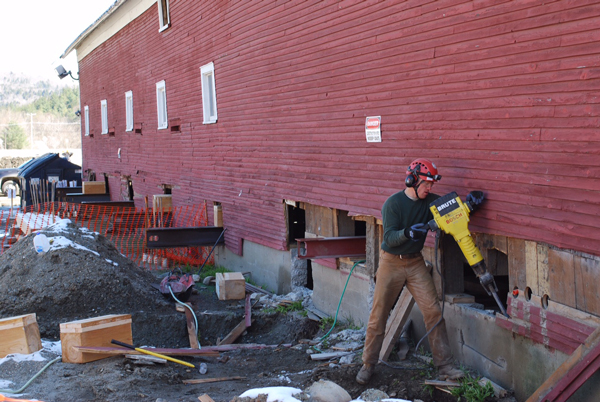 HISTORY
Lareau was one of the first farms in The Valley, settled in 1794 by Simeon Stoddard – a friend of founder General Wait. Stoddard was both a farmer and a doctor – a rare combination these days, Schenk said.
Elements of the late 18th-century construction can be seen today. Eliot Lothrop of the Huntington-based company Building Heritage pointed out "marriage marks," or symbols used to mark different timbers that would be joined. The process of cutting different timbers into unique forms that fit together is called "scribe rule" timber framing, Lothrop explained.
This required builders to lay all of the timbers out before construction, which was "incredibly labor intensive," he added. Later, builders came up with the "square rule method" which made the timbers more modular and independent from one another. This simplified the work, said Lothrop.
Schenk said that the earliest construction incorporated the use of square pegs that fit into round holes in order to secure flooring. This reflects the high cost and unavailability of nails preceding the nation's industrial revolution.
The foundation, too, is a relic of the past. It is made comprised of massive pieces of fieldstone pieced together by many men and oxen, Schenk said.
In the 1890s, the property came into new ownership by a farmer named A. A. Kneeland, Schenk said. The barn was expanded by 70 feet and the roof was reconstructed. Lothrop said that this new addition was incorporated into the old structure in the spirit of "that old, frugal Yankee blood."
The expansion reflects economic changes during that time, Schenk said. After railroads were built in Vermont, farmers could ship their milk to markets in Boston. This meant that cattle herds and, therefore, barns got bigger. Production increased in this "golden age of dairy farms between 1880 and 1910," Schenk said.
Sue and Dan Easley came along as innkeepers in 1982, converting old milking areas of the barn into storage rooms for draft horses. Schenk began renting the property in 1991 and purchased it a decade later.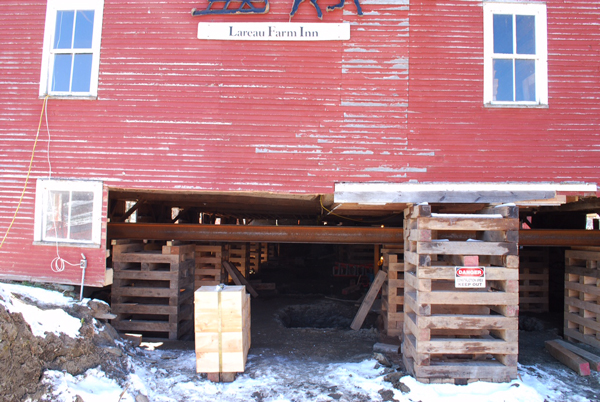 CONSTRUCTION TIMELINE
The barn has been lifted with jacks and sits atop cribbing towers and iron beams while a concrete foundation is poured and a few frame repairs take place. In late June, it will be set back down.
Schenk plans to host two art shows in July and August and said that the frame repairs will be finished after Labor Day. He received a grant from the Vermont Historic Preservation to install a new roof by November.
Old stone from the foundation will be placed under the barn ramp, or high drive, and some of the remaining stone will be preserved for future projects on the farm. The crew will "retain as much of the historic nature and materials as possible," Schenk added.
The University of Vermont (UVM) has excavated portions of the land because Lareau Road will be reconstructed to run perpendicular to Route 100 in order to create a safer intersection.
Those involved in construction are consulting with the Vermont Historic Preservation regarding design and material choices. Schenk said that he is filing an application for the barn to be placed on the national historic registry, which will bring tax benefits.
The work has also been evaluated by the state for potential changes to the flood plain. Schenk said that while the regulations add costs to the project, they are designed to avoid even more costly damage with future flooding.
Those working on the project include mason Mike Eramo of Granville, Building Heritage of Huntington, excavator Bill Atwood of Waterbury, Haskins and Sons Concrete of Waterbury, engineer Bob Neeld and many others.
Local companies like Kingsbury Construction of Waitsfield either donated or sold discounted materials for the project, and "That echoes how barns were originally built, with a community effort," Schenk said.