"Parents are dropping their kids off at the covered bridge and leaving them there, like day care on the river," select board member Sal Spinosa said at this week's regular meeting.
"I heard of an instance today where a kid took a double back flip off the roof and it was posted to Facebook by his parents," he added.
The issue of kids "crawling all over the bridge," came up at the board's June 27 meeting during the select board round table. When the town did extensive work on the covered bridge and replaced the pedestrian walkway last year, a gap between the bridge and walkway was left open along the length of the bridge and at each end. The town has placed snow fencing along the gaps and on the ends, but it is repeatedly taken down.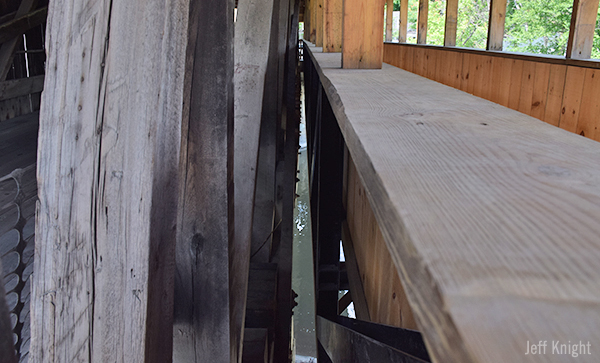 The town received a bid of $35,000 to fix the gaps, but will rebid the project as the contractor was not clear on the scope of the work.
"Kids are popping up and down inside the bridge like jumping jacks in the gap," board member Darryl Forrest said.
Valerie Capels, Waitsfield town administrator, told the board that having consulted with the town's attorney and the Vermont League of Cities and Towns, she has ordered signs prohibiting people from climbing on and jumping on the bridge.
"This has to be done immediately because of what's going on down there. Kids are going out of both ends, off the railings and off the road. They are going down the middle to a rope swing which I've sawed off," Spinosa said.
"The signs may not last for two days," board chair Paul Hartshorn said.
"It's going to help protect the town when something goes awry," Spinosa said.
"This board has to really get serious about what we're going to do at the bridge. It's becoming warfare. I go down and put up the snow fences; every time they take them down, six times so far. But it's way worse than that. They are crawling down into the guts of the bridge to their rope swing. After I sawed it off, they take it home with them. Some of these kids don't know any better. We've got to get serous about this or turn our backs and take the risk of what is coming. There are cars coming through the bridge and there are kids everywhere. People are driving from the sunshine into the shadow and there are kids everywhere, 40 to 50 of them on a hot, humid day. There have been confrontations between these kids and the business owners and residents and they are littering despite the trash buckets laid out," Spinosa said.
"We have a serious issue here and we don't have an ordinance. Some parents think everything is fine. Maybe they think it's like a town pool and it is supervised. It's not. Kids are down there late at night, 9:30 p.m. and even 2 a.m.," he continued.
Spinosa told the board that he would like the town to consider hiring "a couple of big burly Harwood seniors" to patrol the bridge and keep kids from climbing on it. He suggested having the patrollers take pics of errant kids and also keep Waitsfield constable Peter Laskowski on speed dial in case of a more "exaggerated problem."
Board member Kari Dolan suggested hiring lifeguards with CPR training and loud whistles.
Capels asked how high school students could enforce the prohibition on climbing on and jumping from the bridge and asked what authority they would have.
"I've gotten some pushback and there are some basic approaches. They can stand there and look ominous," Spinosa said.
"I don't know if they'd listen," Hartshorn responded.
Dolan asked whether the town should draft an ordinance that makes climbing on and jumping off the bridge a civil infraction. Capels said that the town's attorney advised against adopting an ordinance if the town is not prepared to enforce it.
"Failure to enforce opens us up to a different level of liability. In prior discussions about this issue, previous boards have not wanted to take a heavy hand against a tradition of 'everyone has done it,'" Capels said.
"But it's never been to the point of where it is now," Hartshorn said.
Spinosa, Forrest and a business owner discussed removing long planks, repeatedly. To lift each other up to the roof, kids use planks to create a teeter-totter.
"It's only a matter of time before someone gets seriously hurt. Kids are riding their bikes there or getting dropped off by their parents and if their parents think we're watching them, they're wrong," Hartshorn added.
Dolan pointed out that replacing the cedar shake roof with a standing seam metal roof might change behaviors somewhat as it would be hot, ridged and less desirable as a dive platform.