Drones are now used in diverse ways – whether for commercial operation, recreation or scientific research.
Last week, a team of faculty and staff from the University of Vermont's (UVM) Rubenstein School of Environment and Natural Resources used several drones to inspect the safety of the Waitsfield covered bridge and to collect imagery of the Mad River.
Faculty and staff were being trained in how to use the drones and the overall computer system that they are part of. They sourced visual data that could be compared with future images to observe how the river and infrastructure is changing over time.
Jarlath O'Neil-Dunne, director of the special analysis lab at the Rubenstein School, said that the lab saw research potential with the Mad River due to the impact of Tropical Storm Irene.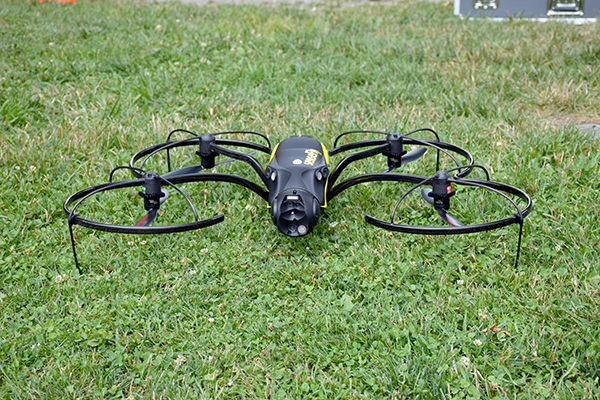 Most of the gadgets look like giant, mechanical bumblebees. They were about 2 feet by 1 foot with a large, black bodies and heads and sets of propellers on each side. Created by a Swiss company called SenseFly, they sell for about $50,000 each.
These models, O'Neil-Dunne said, have both thermal and video cameras on their heads, as well as ultrasonic sensors for navigating space on their sides. They provide imagery with much higher resolution than Google Maps can provide and they are not affected by atmospheric conditions such as clouds like satellites are.
The group also flew a smaller drone with wings over the river in order to collect more detailed data. This model is more agile.
O'Neil-Dunne said that the use of drone technology will allow for more cost effective inspections of natural resources and infrastructure throughout Vermont. The traditional means of collecting data is to make observations from the bucket of a boom truck, but use of these trucks is expensive and one cannot get as close to the object or phenomenon being observed as the drones can.
The drones also collect a digital record of imagery that can be referred to again and again.
The devices can be used for a variety of projects. In February, employees of the special analysis lab have monitored the Winooski River after flooding, in order to gauge when railroad tracks would become submerged in water. They passed their data, in the form of three-dimensional models, along to the Vermont Emergency Management Department.
They have also been mapping the accumulation of algae along the shorelines of Lake Champlain and one of the lab's doctoral students has been looking at sediment loss along streambanks of the Mad River.
The drones can also be used in construction projects; employees of the lab can capture imagery of potential sites and work with engineering firms to develop plans for projects like roads or solar farms.
And, next week, individuals from the lab will look at defoliation caused by insects in Lamoille County.
O'Neil-Dunne said that the laws surrounding drone usage are a bit confusing and arbitrary. The federal regulations and application processes are different depending on which category of usage one happens to fall into.
For commercial use, companies and individuals must receive permission through the state to fly their aircrafts, but recreational use does not require the same application.
When students, faculty and staff of UVM are using the drones for research purposes, they need to obtain clearance if the flight location is within five miles of an airport. Sometimes, O'Neil-Dunne said, the school's use qualifies as commercial – such as when they work with private engineering firms.
Presumably, people will continue to find new applications for these flying robots – whether in The Valley or beyond.