Sampling results from the fourth round of Friends of the Mad River's (FMR) Mad River Watch program again showed no sites with unfavorable swimming conditions as of Monday morning, July 25. After Saturday's thunderstorms, the water on Monday morning at the time of sampling had already declined and was fairly steady. Prior to Monday's sampling, sediments and pollutants from the land into the river and streams had likely already flushed through the watershed and onto the Winooski River and Lake Champlain.
The flow condition of the Mad River at the time of sampling Monday morning was low and steady (LS), measuring approximately 53 cubic feet per second (cfs) at the USGS flow gage in Moretown. The flow peaked at 119 cfs on Saturday between thunderstorms. The median flow for this date is 116 cfs. No sites tested above the DOH/EPA safe E. coli level of 235 colonies per 100 mL of water.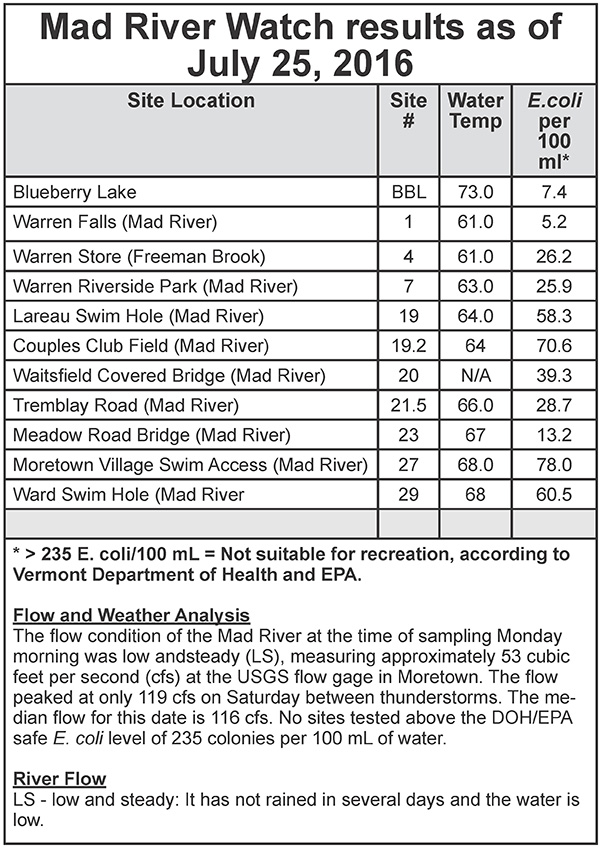 Rains can cause E. coli levels to fluctuate, even on an hourly basis, as water carrying pathogens moves down the watershed. FMR's E. coli sampling results are only a snapshot in time intended to give swimmers a sense of the conditions that lead to high pathogen levels in the water so they can be informed.
"You and your good judgment are your best protector – use common sense and don't swim for at least 24 hours after a substantive rain. It is estimated that at the level of 235 colonies E.coli per 100 mL water, approximately eight out of every 1,000 swimmers are likely to contract a waterborne illness related to fecal contamination," said Friends of the Mad River executive director Corrie Miller.
This week's Mad River Watch volunteers included Charlie Baldwin, Richard Czaplinski, Susy Deane, Annie and Hazel Macmillan, Kinny Perot, Fran and Gary Plewak and Michael Ware. Susanne and George Schaefer drove water samples to the lab in Burlington for phosphorus, nitrogen and turbidity analysis and Sally Boudreau posted data at swim holes across the watershed. Paula Baldwin took over the helm as lab coordinator this year.
"The river connects our Mad River Valley community and its clean water is a measure of our success as stewards of the land. For more information about E. coli and the Mad River Watch program and to view our most recent complete data report please visit the Friends of the Mad River website at www.FriendsoftheMadRiver.org. Results are also available on Facebook ("Friends of the Mad River") and on signposts at swim holes across The Valley," Miller said.