The Harwood community came together on Monday night, October 10, to love and support each other as the community begins to mourn the lives of the five teenagers that were lost this past Saturday, October 8.
Cars were parked all along Route 100 by Harwood Union High School as people filed into the soccer field forming a seemingly endless crowd by 6:30 p.m. An estimated 2,000 people showed up to remember Mary Harris, Cyrus Zschau, Janie Cozzi, Liam Hale and Eli Brookens.
The teenagers, four Harwood students and another who grew up here but attended school out of state, were killed in a wrong-way car crash on I-89 after attending a concert in Burlington on October 8.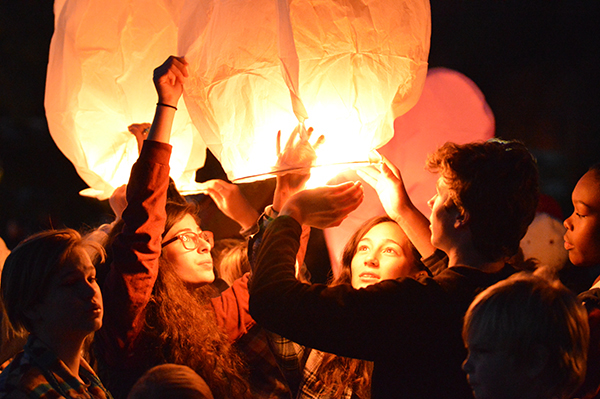 SILENT TEARS
Silent tears fell throughout the soccer field as friends and family released lanterns into the night sky in their memory.
Patrick McHugh opened the ceremony up by asking everyone there to remember Mary, Cyrus, Janie, Liam and Eli.
"Remember them, in whatever way you remember them; just take a moment," he said.
"I know that the loss of Mary, Eli, Liam, Cyrus and Janie is going to impact not just our Harwood community but the whole Valley because of the way that these kids have impacted all of our lives," Bailey McHugh said.

TOUCHED OUR LIVES
She said that these kids have touched every one of our lives and that is why there is so much support from the community.
Bobby Kelly, another Harwood student, spoke to the crowd sharing a story about looking over The Valley from the top of Mad River Glen. He said that from where he stood the cars looked so small, but he remembered that it was all about perspective and those who are close to those cars see them differently.
Kelly said that there are people that were close to the five teenagers who will feel the most pain and people further from them who will feel it less so.
"I think you have a true community when you have people that are at the top of the mountain will put themselves 10 feet from the cars just to be with everybody else. The love for each other that we have at Harwood, in this community, is something that you are not going to find anywhere else," Kelly said.
"Through all of this tragedy and awfulness we'll heal together," Kelly ended with.
Darrell Mays, Mary Harris' uncle, also spoke to the crowd. He had known all five teenagers for most of their lives.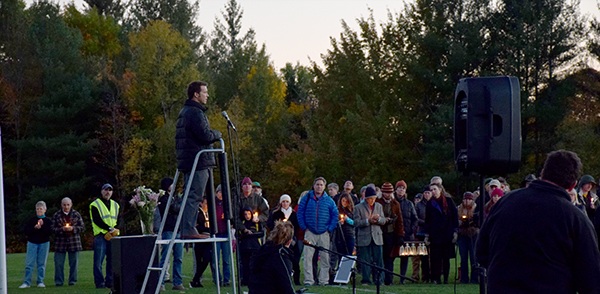 FEEL BLESSED
"Be thankful for your friends, feel blessed that you got to live today, do your best to live a great life. That's what you can do for your friends that died," Mays said to the community.
Community members stayed well after the ceremony ended, placing their candles by five lanterns on the side of the soccer field and around an "HU Strong" banner that hung from the goal.
Community members gathered in small groups to mourn together and remember their lost friends.

COMMUNITY VIGIL
Following the crash and the spreading of the news, Harwood principals Amy Rex and Lisa Atwood and Washington West superintendent Brigid Sheffert Nease, Harwood's crisis team, worked quickly to ensure students had what they needed to help them cope, but it was not the crisis team that set up the community vigil that took place Monday evening.
McHugh and his family started with just a few emails about a service for the lost high school students and the strength of the Mad River Valley community took over.
McHugh said that both he and his wife suffered the loss of friends in high school and they know the importance of a strong community in a time like this.
"This is no way a testimony to anything that we did," McHugh said of his efforts. "This was a testimony to the community and what this community is all about," he said.
Working with the community, The Valley Reporter gathered a few brief words about each of the teenagers.
Eli Brookens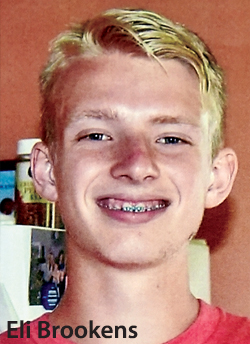 Friends of Eli Brookens, 16, Waterbury, admired his athleticism. He played soccer and baseball and skied (his friend called him a badass skier). He was a star athlete who gave 110 percent and a phenomenal pitcher. Ski coach Ben Grunow called him an "amazing, inspiring, confident athlete, wise beyond his years and always caring for others."
He was the oldest of four kids and was reported to be a wonderful big brother and a wonderful son, someone whom many local moms hoped would become friends with their sons.
He was described as a joyful, loving upbeat and happy guy, "a golden boy with a golden heart."
"I had the pleasure of working with this young man this summer. But more importantly I was honored to become friends with him. He was an amazing guy who had so much passion. He was the guy who was always positive with the biggest smile on his face! I'm still shocked that you are gone, Eli . . . You will forever be missed," wrote another friend on Facebook.
Janie Cozzi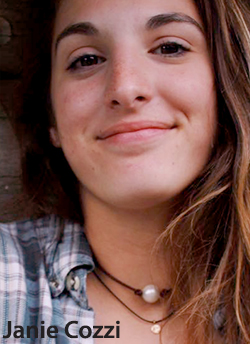 Janie Cozzi, 15, Fayston, was in her second year at Kimball Union Academy (KUA) in Meriden, New Hampshire. She was a member of the girls' leadership program at KUA and was on the soccer team.
Her love of soccer started early and was abiding. As she grew she was tenacious about soccer and academics, but also about love and loyalty to her friends and family.
"She enjoyed people of every age and never missed a chance to hug her friends, her parents, her parents' friends (whom she adopted as her own), her siblings, grandparents, and cousins," said family friend Ali Hobart.
Cozzi's soccer coach called her a "gem," in a statement, and said she was "totally delightful, always smiling."
She was quick to smile. The community knew that smile when they visited The Sweet Spot, where she worked and earned the love and admiration of Johnny, Scout and Sarina.
Becca Rubinstein, whose family knew Cozzi through soccer, said that her larger-than-life spirit, her infectious personality and zest for life made her part of her family and made the girls instant friends.
"It is easy to be impressed by her athleticism and her fierce defensive skills, but it was who she was off the field that made Janie simply remarkable. Her enthusiasm for just about everything made even the most routine things fun. Her outgoing spirit transcended sports, as she truly loved life. She was a spark plug every time she walked on the field or entered the room," Rubinstein recalled.
Family friend Lori Bjornlund said fierce love is what comes to mind when thinking about Janie.
"She loved her friends and most of all her family so fiercely. She was a great sister to her brothers, Oliver and Ryder. She knew she had an amazing mom. She lives on in all of us," Bjornlund said.
Liam Hale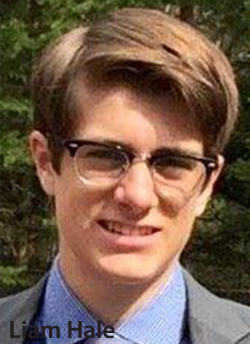 Liam Hale, 16, was from Fayston. Cole Henry, one of his best friends, reports that he was funny and everyone liked him.
"He was the kid we messed around with a lot. He'd laugh," Henry said, adding, "I grew up with him. We went to school together from preschool all the way through our junior year in high school."
Hale was a natural athlete. He was a runner and hurdler in Kerrigan's Army, the cross- country team at Harwood Union. He was a high and low hurdler and ran the 4 x 100 and 4 x 400 meter relays. When he was in middle school, he played soccer and lacrosse. He was an avid skier, learned to love mountain biking and had recently begun to play golf. He had worked for three years at Sugarbush as an assistant bike instructor and later in the bike shop.
Hale was smart and a good student, one who came to school in a polo shirt usually and often a tie. He had a little brother. "I was good friends with all of them; three of them were my best friends. One was Mary. She was my best friend's cousin so every family event the three of us were hanging out, skiing, the Fourth of July," Henry said.
Mary Harris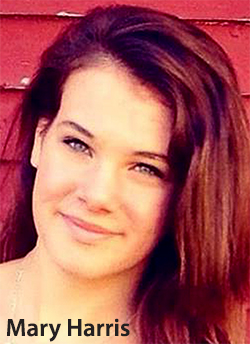 Mary Harris was 16 and a junior at Harwood where she was involved in soccer, basketball and lacrosse. She was also an avid skier and an honors student.
Her friends and family remember her as energetic and amazing.
"There was just something about Mary. She was loving, bright, athletic, funny and so sweet. She is an angel watching over us all now," her aunt Suzy Lowe said.
Her soccer coach, Mike Vasseur, said Harris always had time to help a friend.
"Mary's smile lit up a room and showed how much she loved life and all the people around her. I have had my team asking who was going to be the one to change the mood from negative to positive now as Mary was the one who did that for them. Mary just simply had a good soul that made others feel special and loved family, friends, strangers and even coaches," Vasseur said.
Her neighbors Bill and Mary Bozack remember her as a bright, beautiful, energetic girl on her way to becoming an amazing woman. Neighbors Kim Martino and Willie Bozack said she was a shining light.
"Mary was always my favorite cousin. She was kind and generous. My last words to her were 'Saw dude' and I bro hugged her. She was for sure the best cousin and overall person I've ever known," her cousin Piper Lowe said.
Roy Tuscany, family friend and coach, said she was a staple at their ski event every winter, bringing positive energy and skiing with a smile.
Cyrus Zschau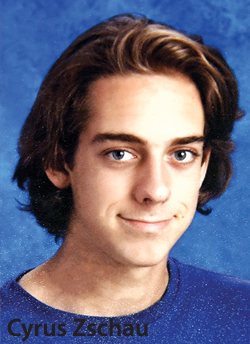 Cyrus Zschau, Moretown, was 16 and an avid athlete at Harwood Union where he played soccer and baseball. He worked with Charlie Menard, chef at the Inn at the Round Barn in Waitsfield and owner of Canteen Creemee Company, also in Waitsfield.
"He worked in both places for me. He started at the barn and then when we opened the Canteen, he'd go back and forth. He was the guy who was never a problem. He never complained," Menard said.
He was athletic, playing sports and baseball when not working.
"All these guys are like family to me. The average kid who comes here works with me for four years. To have Cyrus leave right now is really not fair," Menard said.
"He was one of the most pleasant people to be around. Low key, not the loudest, but always one of the guy players. He was one of the front guys and register people at Canteen; you always pick people like that to be your reps. He was great with the public and always had a smile. A guy like Cyrus, he just had that glow," Menard recalled.
To provide our communities with as much information as possible about this tragedy, The Valley Reporter, Waterbury Record and Stowe Reporter collaborated on stories and photos for this issue.