Joey Nagy, Fayston, is trying to bring the most sustainable product to The Valley as possible while still making food that he would serve to his children.
Nagy is the owner of The Mad Taco in Waitsfield. Over the past seven years he has opened a restaurant in Montpelier and started Cast Iron Catering. While most of his product comes from outside of Vermont, he is doing what he can to contribute.
Nagy and his partner, Georgia von Trapp, built two greenhouses this past spring on his farm and started growing peppers, Mexican corn, tomatillos, cilantro and many other items that are on The Mad Taco's menu.
During The Valley's peak growing months, Nagy estimated that what he grows at his farm contributes between 50 and 75 percent of what The Mad Taco uses, depending on the week. Over the course of the year, however, that figure is much smaller.
Nagy bought the farm atop Marble Hill last year from the Vermont Land Trust.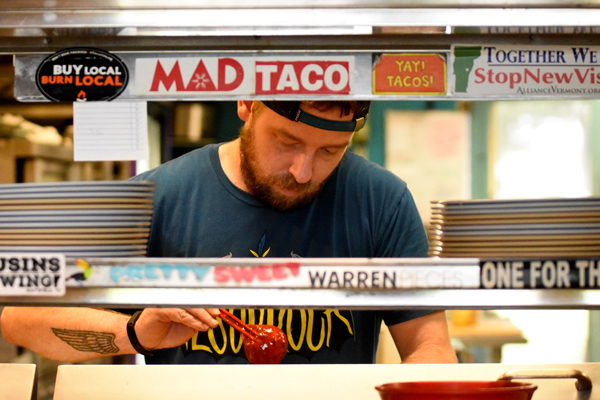 JUST MEETING THE DEMAND
Nagy had originally planned to grow enough produce to save some; however, what he is growing is just meeting the demand on a week-to-week basis.
"We were hoping to put some away for winter, like we are with tomatillos," he said. "We're not going to because of the amount we go through at the restaurant."
Right now one of his greenhouses is devoted to peppers. He is growing ghost peppers, jalapenos and Trinidad scorpions to name a few. Von Trapp tends to the greenhouses and the tomatillos and the rest of the produce. Von Trapp is harvesting almost 150 pounds of tomatillos per day.
"I love this house. I'm a hot freak. I love spicy foods," Nagy said. Nagy grew up in California, working in kitchens and eating the types of food that he now makes at his restaurant.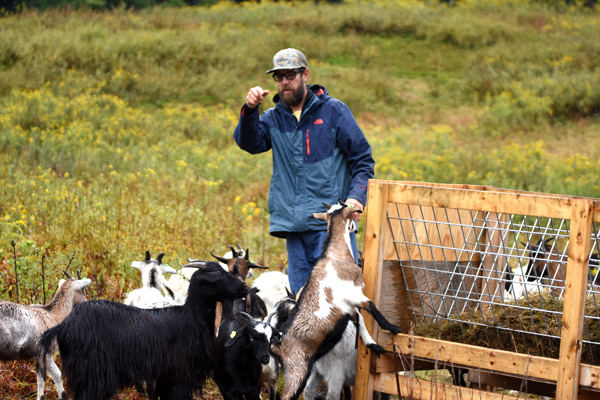 GOAT BREEDING
In addition to the produce, they are also starting a goat breeding program on their farm on Marble Hill. Nagy said he would like to put goat meat as an option on the menu on a regular basis, but his goats are still young and it will take time until he has a sustainable amount.
Nagy said he had 12 goats last year that were slaughtered and sold at The Mad Taco. This year they have 35, and Nagy's 8-month-old puppy, Cassius, herds them.
Nagy explained that he likes to source sustainably rather than locally because the amount of meat and produce that The Mad Taco needs simply cannot be found in the area.
The Mad Taco smokes around 1,000 pounds of pork shoulders and that is just for the two restaurants. Nagy sources his meat from Pennsylvania and Quebec. It's all GMO- and antibiotic-free.
"That's what we can get with keeping the price point. I would love to serve Vermont, local, organic. Who's paying 18 bucks for a burrito?" Nagy said.
The second part of sustainability for Nagy is the work atmosphere at The Mad Taco. The organization has 37 full-time employees.
"We're a giant family. We don't have turnover. There's huge staff retention," Nagy said. Many of the staff members have been friends or regulars of the establishment that went on to be hired.
WORK-LIFE BALANCE
"We as a company and a family completely believe in work-life balance," Nagy explained. Nagy makes sure that he pays employees a livable wage and everyone gets two weeks paid vacation. Nagy also considers a livable wage enough to buy a home or a condo.
"It's more than just to be able to afford food," Nagy said.
Nagy said that the emphasis that he puts on work-life balance and the effort he puts into making sure the employees have a higher quality of life are why The Mad Taco is unique and why it has been so successful in such a short time.