The average age of residents in The Valley increased slightly and workforce population is still expected to decline.
Each year the Mad River Valley Planning District puts together a data report tracking numerous economic and demographic trends in The Valley. These include tax receipts, jobs by sector, skier visits at each mountain, school enrollment and the age of Valley residents.
The Mad River Valley Planning District compiles data on the age of residents in The Valley. However, the data is delayed two years so the information in the 2017 report is from 2015.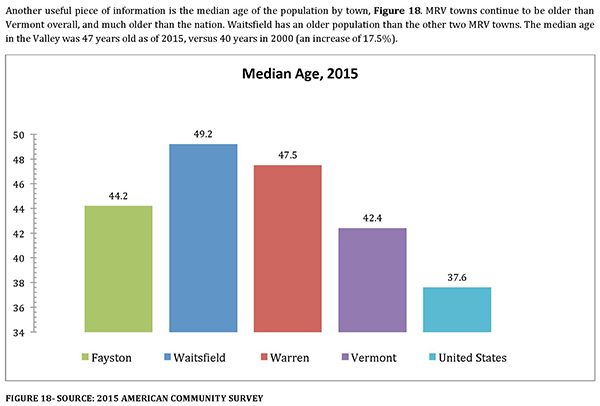 The average age in Waitsfield declined slightly from 2014 to 2015, from 49.3 to 49.2. However the average age in Warren climbed from 46.6 to 47.5 and in Fayston from 43.1 to 44.2. The figures for the state of Vermont are similar. The average age in 2015 was 42.4, up 0.2 from the previous year.
Both population projections in the planning district's data report, taken from a report completed by Vermont's Agency of Commerce and Community Development, show increases in overall population.
The reports' low estimate shows an average growth of 15 percent across Waitsfield, Warren and Fayston while the high estimate shows a 19.6 percent increase in population Valleywide.
However, both estimates exhibit a decline in the workforce housing population for The Valley from 2010, in which the state had approximately 36,500 working-age residents. The estimates show a steady decline over the next 13 years to between 31,000 and 32,000.