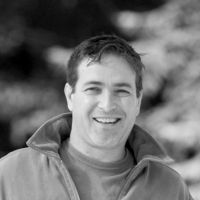 Harwood Union interim Assistant Principle Sam Krotinger has been named assistant principal.
The Harwood Unified Union School District (HUUSD) Board approved the unanimous recommendation of the 15-person hiring team at its February 21 meeting. He will start his new duties on July 1, 2018.
The hiring committee team, comprised of two student representatives, two school board representatives, four community members, two teachers, two support staff, the director of curriculum, Principal Lisa Atwood and Superintendent Brigid Nease reviewed all 17 applications and narrowed the field to four for interviews.
Interviews were conducted on Monday, February 19, with follow-up interviews the next day. While Krotinger had no prior experience as a school principal, after the second round committee members reported that his experience as interim principal since last July when Co-Principal Amy Rex resigned gave him an edge. Krotinger will work with Lisa Atwood for the next two years. Atwood has already announced her anticipated retirement in 2020. It is expected that a new search will begin for two co-principals in winter of 2020.
Krotinger has worked at Harwood since 2000 as the digital media educator. In 2015, he joined the leadership team at Harwood and worked closely with Rex. Krotinger has also served on the district level leadership team since its inception and provides additional support as the head of the districtwide visual arts group. Krotinger completed his degree in educational leadership at Castleton College and St. Michael's College, obtaining his administrative endorsement on completion of this program. Despite receiving this endorsement, Krotinger said he was not interested in leaving Harwood Union to begin his career in administration elsewhere.
"I live in this community and believe in the irrefutable excellence of our schools. After 18 years of dedicated service, it is an honor to continue to serve this community in my new role as assistant principal," he said.
Krotinger grew up in the Berkshires and went to high school in Massachusetts while his parents worked in a rural hospital in Haiti. When his family returned to the U.S., he moved to Vermont, where he attended the University of Vermont as a studio art major/comparative religion minor. After graduation in 1996, Krotinger lived in New York City and Portland, Oregon, working in fashion photography and digital imaging. He moved back to Vermont in 1998 and received his first master's degree in curriculum and instruction from UVM in 2000, completing student teaching at Essex High School. He began teaching digital media in Harwood's visual art department in the fall of 2000. He received his master of fine arts in visual art from the Art Institute of Boston in 2009.
He will be working with administrative team members Atwood and Michael Woods, director of support services.
"Eliminating a difficult transition will be much easier on students and staff," says director of curriculum Sheila Soule. "Sam has the backstory and the skills to continue the successful implementation of Proficiency-Based Learning."
"We are very fortunate to have Sam's dedicated and intentional leadership emerge from within our school," added Nease.