Photo: Colin Flanders, The Essex Reporter

"When insurance says no, High Fives says yes" – Roy Tuscany, High Fives Foundation.
Keenan Weischedel and Ryan McLaren both love skiing and they both skied at Mad River Glen and now they have another thing in common: They both suffered life-altering spinal injuries in 2017 and the High Fives Foundation stepped in to help them out.
Weischedel suffered an injury at the C7 level when he came down directly on his head after hitting a jump early in the 2016-17 ski season.
On St. Patrick's day 2017, McLaren suffered an injury at the L1 level after a small drop in the morning went awry.
Both were injured while skiing at Mad River Glen. McLaren made it back to The Valley this past weekend to attend the Fat Ski-a-thon, an annual fundraiser for the foundation held at Sugarbush.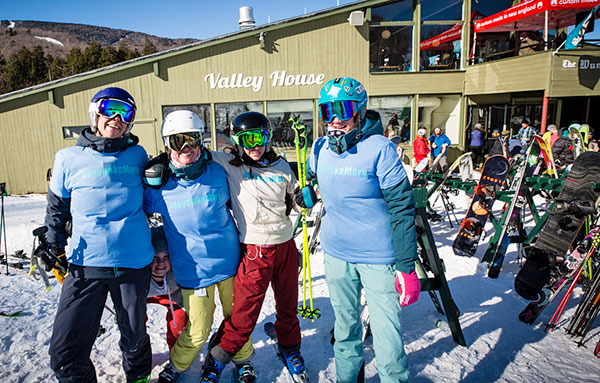 Photo: TJ Greenwood
Last weekend dozens of people skied and rode laps at the Fat Ski-a-thon at Sugarbush's Lincoln Peak to raise funds to help the High Fives Foundation continue its work. Some 135 people raised $194,000 on March 3. Ruby and Mae Murphy, Fayston, singlehandedly raised $31,500 of the total.
Over the last seven years, during the course of the annual Fat Ski-a-thons, the Murphy sisters have raised over $150,000.
Roy Tuscany started the High Fives Foundation after suffering a life-altering injury while skiing. He flew 130 feet and the impact on landing fractured his T-12 vertebrae. When he needed help covering the cost of recovery he turned to friends.
"The first people that raised money for me was a large group of friends back in the Mad River Valley. It was an event called Roy's Recovery Fund. It was held at the Mad Mountain Tavern, before it became the Localfolk Smokehouse, and it was kind of our first foray into fundraising," Tuscany said.
Now his High Fives Foundation helps others through the same process. The foundation helps athletes cover the cost of recovery and can help with the actual recovery process at their facility in Squaw Valley, California.
"Both of them have received lots of funding from the foundation to help with their recovery," Tuscany said of Weischedel and McLaren.
"The funding goes toward covering the cost that insurance doesn't. A lot of times insurance only allocates so much funding to be covered. Well what do you do when you can't afford anything else or you can't afford the recovery cost of going through a life- altering injury? When insurance says no, High Fives says yes," he added.
The High Fives Foundation has grown significantly since its inception. It has 179 athletes listed on its website and a healing center in Truckee, California.
"A lot of times we're the first people to find out who these folks are, how the injury occurred and what they're looking for in their recovery. A lot of times what we do is provide answers to questions that are going unanswered," Tuscany said.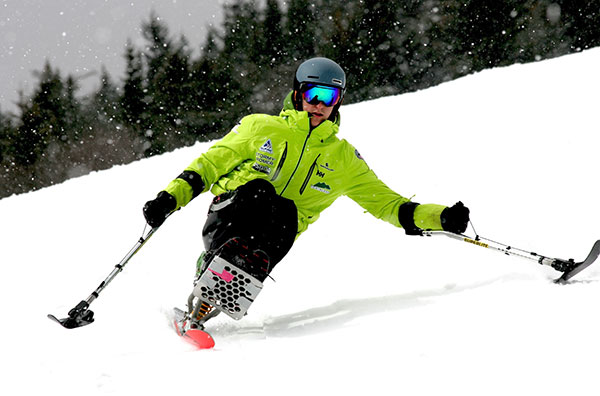 Photo: TJ Greenwood
McLaren still lives in Vermont and is able to walk with assistance and he is hoping to ski after his year anniversary from the injury. Weischedel lives in Squaw Valley and works out at the High Fives Foundation and plays on the quad rugby team that the foundation supports.
Tuscany said that it is important to make sure that those who do suffer from such significant injuries have people to turn to who have been through the same situation. The High Fives Foundation looks to connect these athletes and thus build a supportive community.