Many Valley residents remain without power after a strong storm came through Vermont on the afternoon and evening of April 4.
The storm started with high winds yesterday afternoon, which increased through the evening. Winds were as high as they were going to get between 5 and 7 p.m., according to Green Mountain Power spokesperson Dotty Schnure. GMP has some measurements of wind speed, including 63 mph in Mendon.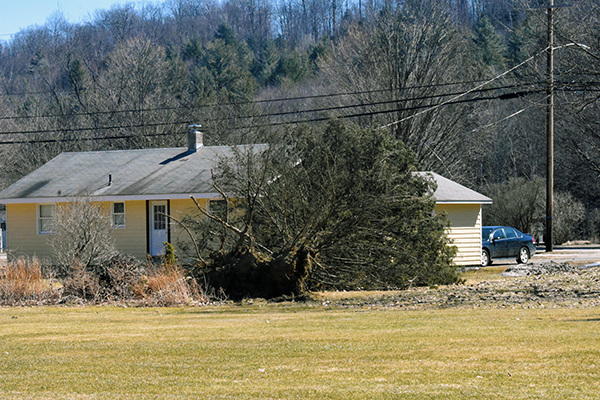 Photo: Route 100, Waitsfield (yellow house)
The current outages are a result of downed lines but also a lot of snapped power poles, she said.
Schnure said the damage was bad in The Valley and that a high number of outages remain in Waitsfield, Warren and Fayston. According to GMP's website, 255 outages were reported in Fayston, 2 in Moretown, 622 in Waitsfield and 1,184 Warren households were left without power by 12:20 p.m. on April 5.
GMP started the day with 50,000 people without power. Currently, 13,500 residents do not have power and in heavily damaged areas it is going to take well into the weekend to get power back on, Schnure explained.
"We saw this storm coming and prepared for the worse. This event was worse than the worst forecast," Schnure said.
Fred Messer, Waitsfield's emergency services director, said that if an emergency shelter is needed for local families Waitsfield Elementary School's gymnasium would serve as the shelter. Messer has contacted Kaiya Korb, principal at Waitsfield Elementary, to let her know, but as of now no one has contacted Messer.
"What I am worried about is that we have at-risk individuals that need electricity to keep them going and I don't want people sitting in cold houses without what they need to survive," Messer said.
The emergency shelter would be able to provide a cot and two blankets as well as a warm room and basic facilities, Messer said.
Vermont Emergency Services has informed Messer that power could be out in some of the affected households for two days. If any families do need a place to stay, Messer can be reached at 802-793-2238.