A 15-year-old Warren student will appear in Vermont Superior Court Washington Family Division to face charges of criminal threatening and disorderly conduct by electronic device today, June 14. Vermont State Police were present at Harwood Union on Wednesday morning, June 13, after the Warren student was charged with making threatening statements on Facebook about perpetuating a school shooting at Harwood Union.
Police were alerted by administrators at the school and reviewed the posts and then responded to the student's residence.
Vermont State Police public information officer Adam Silverman said that this was not the first time that state police have responded to the student's residence.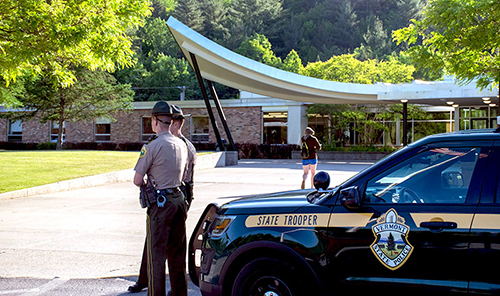 A press release from Harwood Unified Union School District (HUUSD) Superintendent Brigid Nease was issued at 7:32 a.m. on Wednesday morning. In it she said that Harwood Union Principal Lisa Atwood received an email from a concerned parent about Facebook posts made by a Harwood student. Nease reviewed the message and posts and contacted the Vermont State Police. Officers went to the home of the student and conducted a threat assessment, speaking to the student and a parent.
The message that raised concerns said, "This be what imma use to shoot up a school," with a picture of instructions of making a homemade crossbow from GAMINGbible, along with mention of getting a car bomb to kill a female, Nease reported.
Nease said via email that she could not confirm whether this student had previously made threats against the school or a teacher.
Subsequent to that comment, Nease did report, in an email to the community at 3:15 p.m. Wednesday afternoon, that the student believed he/she was joking about building a homemade crossbow and shooting up a school. She said that the female mentioned regarding the student needing a car bomb is an older adult, not a student. The mention of shooting was "a school" and not directed at any school, HUHS, faculty or students. There was no mention of guns, other weapons, or other harmful materials in the posts. 

She said that the Vermont State Police did not provide any further information that would be of concern to administration and said that the school will remain open. The student has been suspended from school for the remainder of the year. Further investigation into the situation will occur by the school district.
"Safety is our top priority. All precautionary measures will be taken. There will be police presence at Harwood Union High School for the remainder of school year," Nease noted.