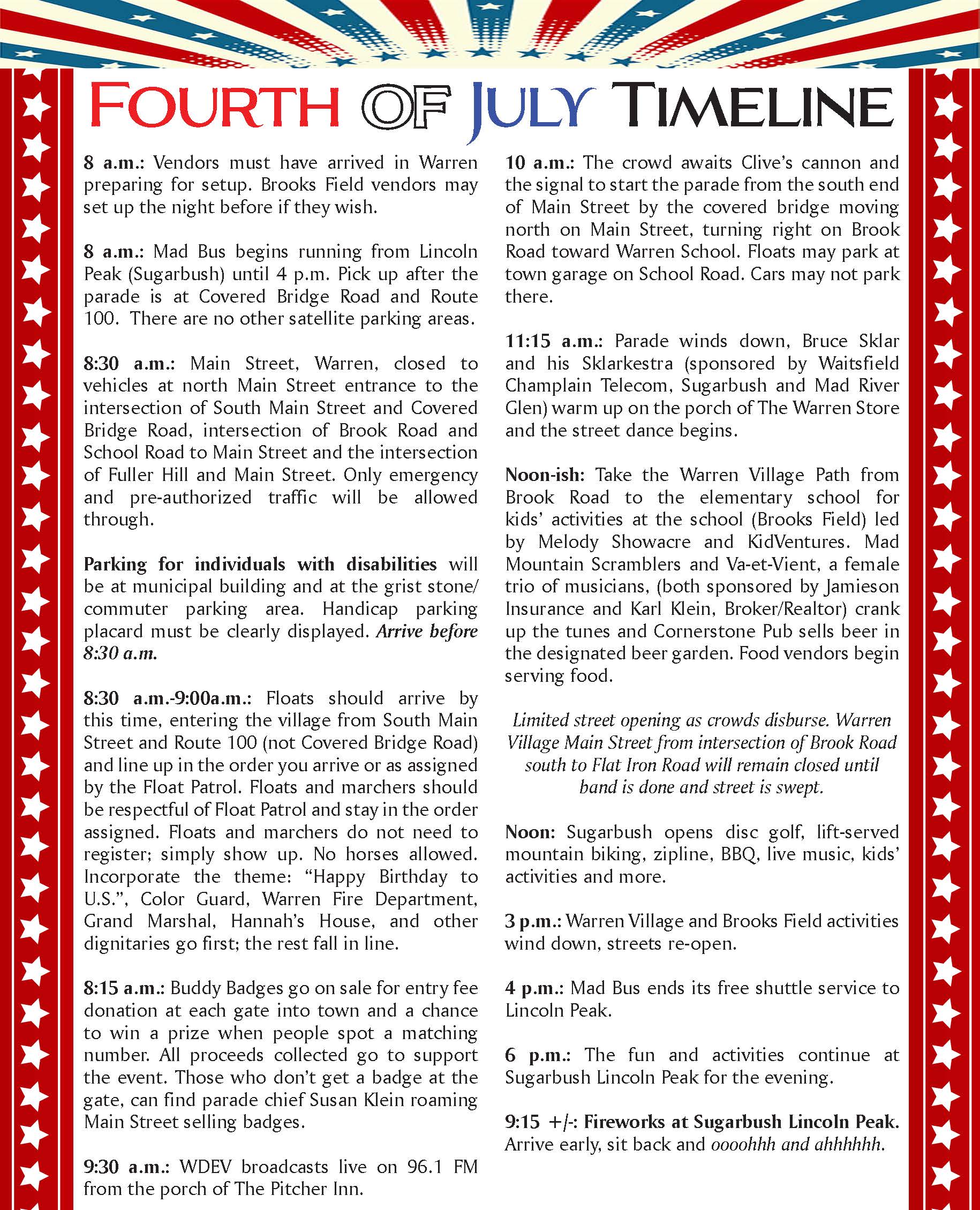 Come rain or shine, the multitudes will head to Warren Village next week to the annual Fourth of July parade, street dance and celebration. The theme of this year's parade is Happy Birthday to U.S.
Representatives from Hannah's House will lead the parade as Grand Marshals, taking to the streets after the boom of Clive's cannon signals the official start of the parade.
Float builders from one end of the watershed to the other are either frantically building or still conceiving of their floats for this year while vendors and musicians prepare for the day.
Transportation to and from the event will be provided by the Mad Bus from Lincoln Peak at Sugarbush.
Merrymakers are asked to leave dogs at home and police their own trash and recycling.
The traditional after-parade street dance takes place in front of The Warren Store and beyond. Bruce Sklar and his Sklarkestra will perform from the deck of The Warren Store.
In addition to the street dance, there is an entire field of fun at Brooks Field where more vendors and family-friendly activities are scheduled including a dunk tank for charity.
There is no alcohol allowed in Warren Village, with the rule strictly enforced by security personnel. Please respect the rules.
The parade and street dance will be live-streamed by Mad River Valley Television on Waitsfield Cable channels 44 and 244 (HD), the Mad River Valley Chamber of Commerce Facebook page and MRVTV's YouTube channel.
The parade is produced by Mad River Valley Rotary Club, under the volunteer hand of Susan Klein, Fayston. Doug Bergstein and Allison Duckworth are parade announcers. Spike Brodeur is float patrol; Karen Anderson and Audrey Mosley are judge handlers.