For Waitsfield resident Robin Morris, it's a straight line from the time he worked as CFO of American Flatbread to where he is today: proprietor of the Mad River Food Hub and the Mad River Taste Place and now creator of a series of video shorts that tell the stories of local people making local food.
As The Valley Reporter goes to press on December 5, nine short videos showcasing local food producers are being shown at the Big Picture Theater in Waitsfield, where participants will take part in a discussion about local food, its producers and what it means after the films are aired.
"The Mad River Taste Place really started at American Flatbread where George impressed on me the importance of getting the food in people's mouths as the first step to getting them to understand the story of where it came from," Morris said.
As time went on and the idea of the makers and producers of the Mad River Valley and environs continued to intrigue him, he realized that to really make the farm-to-plate model succeed, a place to produce, store and distribute food was need.
In 2010, he opened the Mad River Food Hub where 50 makers and producers from a 50-mile radius create, store and distribute their food. In 2016, he opened the Mad River Taste Place, a retail space that showcases local foods and offers public events, lectures, workshops and more.
And now, this week, he's showing nine short videos that tell the stories of local food producers that were made possible in part by a USDA Rural Development Grant. Videographer Elizabeth Rossano, Hardwick, filmed them. Carol Degener, Lake Elmore, created the stories.
The results are stunning and surprisingly (or maybe not surprisingly) moving. These are stories of people who seem to be moving backward in time, away from mass production, away from factory farming, away from volume, in favor of food created with intention and by hand.
These are stories of people who care about their craft, whose intentions can be tasted in their wares. Marisa Mauro of Ploughgate Creamery, who makes butter by hand at the former Bragg Farm in Fayston, is shown hand-rolling and packaging her butter in front of a window that offers the sweeping view from Bragg Farm.
"Butter just makes people happy," Mauro points out in a video titled "Beauty in Butter."
The idea of the intention that goes into creating food is raised by many of the artisans featured and is pointed out eloquently by Quayl Rewinski of Quayl's Chocolates in Warren, who talks about the energy and intention of the creator and how it affects the product. Rewinski talks about the dance of creation and the video "Moments of Bliss" illustrates her choreography of creation.
Place and the notion that place affects taste runs through the videos. Dave Gavett of Scrag Mountain Sugar House talks about the flora and fauna of Scrag Mountain where his sugar bush and sugarhouse are located. He points out that the location and the forest full of its deadfall and critters contribute to his syrup and what makes it unique.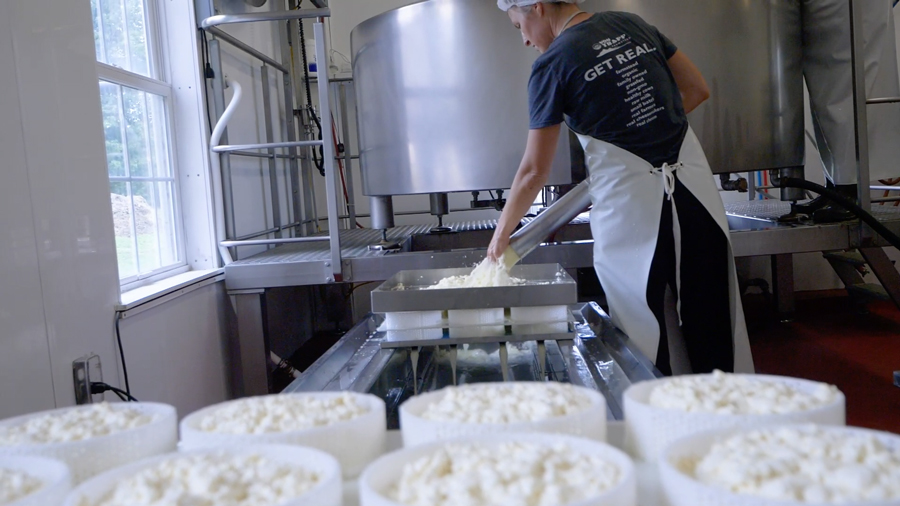 Cheesemaker Sebastian von Trapp talks about place and tasting the pasture that grows the grass that goes into the cows that create the milk that's used to create von Trapp Cheeses in Waitsfield. It's the field and the forest that people are tasting when they are eating these local foods.
"You can taste the pasture," he says.
"These cheeses only come from this land. They're ours," von Trapp points out.
John Farr and David Hartshorn, of Green Mountain Harvest in Waitsfield, are featured in their hydroponic greenhouse where they grow lettuce, basil and watercress. The sheer volume of food they can grow is amazing. They can grow on ½ acre what a 200-acre farm would produce and "We don't have a weed problem in here," Hartshorn says in the film "Growing Clean."
Awake, a Waitsfield coffee company, is featured in a video called "Awake the Senses," featuring Sarina and Jason Gulisano along with John Vitko. They discuss the joy of roasting and brewing coffee to the point where "just a plain black cup of coffee brings joy to people."
"And when you find that mark, the passion falls into trying to hit that mark over and over," Jason Gulisano notes.
The videos include beautiful footage of The Valley as well as drone photography. There is a ninth video that is a compilation of the shorts. The videos can be seen at the Mad River Taste Place and will be available online on producers' websites.