Dave Horner of Middlesex does agility training with his Australian cattle dog, Ryder, something that they've been doing since shortly after Ryder was adopted in July of 2017. The Valley Reporter reached out to Horner with some questions about his experience.
How did you get into agility training with your dog and why? How old was your dog at the time?
I got into agility because he is an Australian cattle dog and a puppy too, so they are incredibly high-energy dogs with a herding instinct, which translates well into agility. Ryder was about 6 months old when we started, after he had puppy obedience and Good Manners 2 training.
Where do you train him? Do you compete with your dog?
We train at Show Me the Biscuit in Williston. We just started competing. He's been training for just over a year now. We also train at home. We have purchased most of the equipment.
What do you think it does for your dog?
Our dog Ryder loves agility. It burns off mental and physical energy and his focus is improving.
How to you measure the levels of agility training?
Once you start agility, training continues; you compare your own performance, not with others so much but with yourself.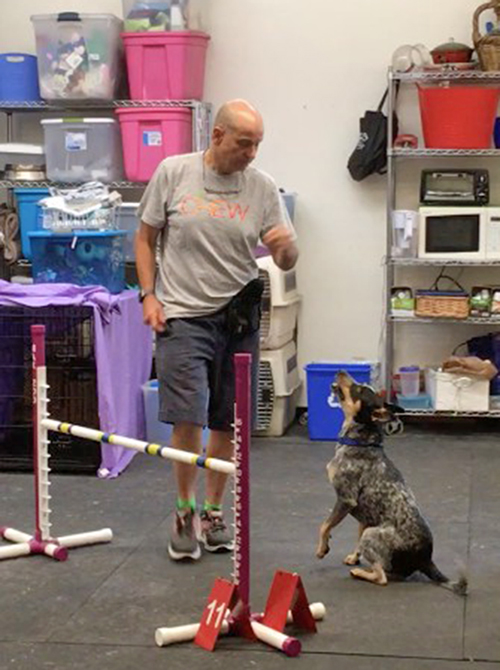 How complicated can it get, and once you start with your dog do you have to continue?
It's complicated; it's more about how well I can direct the dog and how well I know the course now. Ryder knows what to do. I just need to direct him right. There are certain moves to get him and me more efficient like the front cross, rear cross and shoulder pull.
Any advice for people wanting to get their dog into agility training?
You really don't want to stop once you start or get hooked. It's wonderful to be around other like-minded people who love their pooches so much. If you are thinking about getting into agility you need a good foundation first: obedience training and good sit, wait, down and come commands from your dog. Agility is a great way to bond with your dog and spend quality time one on one.
Find more details at http://showmethebiscuit.com/.