The Weigel family of Fayston spent some very nerve-wracking days in early November when their 15-pound Chihuahua-terrier mix, Weezie, took off from Amenta's Way trail at Blueberry Lake in Warren.
Their heartfelt pleas on social media moved people from one end of The Valley to the other, as did a plea from 10-year-old Haddie Weigel who wrote this:
"Hi, my name is Haddie Weigel. I am 10 and go to Fayston School. Me and my family moved here in August from Boston. Although moving was one of the hardest things in my life, I persevered thanks to my family. But then we lost Weezie and now my family is not whole and it is even harder than moving. Each day she is gone, it gets harder and harder just thinking about her not being there every day when I get home from school. I think I hear her barking in the yard, but nothing is there. When I go to bed, she is not there lying there beside me, and I start to think 'what if she is not coming back?' I feel like I can't breathe and I don't know how I will live without her. But it makes me feel a little better when I think about how many people are looking for her and I want to thank you all just so much for helping me and Weezie."
Sarah Weigel, Haddie's mother, said the family regularly hikes with Weezie and their other dog, Harold. Weezie is a rescue who'd been a stray and they didn't know how she would react alone in the cold and snow of early November.
"We were expecting the worst. We didn't know how she'd survive. She prefers to sleep in our bed all the way under the covers," Sarah said.
Harold, Haddie, Weezie, and Elliot on the first day of school
AN ANOMALY
Weezie's running off was an anomaly that occurred when she and Haddie and their son, Elliot, 8, were taking a routine hike on the Blueberry Lake trails with the dogs generally running in big loops around them. They saw her prick up her ears and dart downhill. They called her, thinking she'd come right back.
"Three or four minutes later we realized we hadn't seen her and we doubled back and found no sign of her. I told the kids to stay on the trail and started searching off the trail. Our hike had been meant to be a quick loop to get everyone's excessive energy out. It was getting dark and we didn't have a headlamp," Weigel said.
Weezie and Harold both have Tile stickers affixed to their collars, linked to the Tile apps on Sarah and her husband Tom's phones. As darkness fell, she called Tom who was working in LA at the time and they tried to sort out how to use the Tile app to locate Weezie.
POSTED TILE LOGIN
Tom posted his Tile login information on Front Porch Forum, asking folks to sign in and leave it running in the background while Sarah got some friends with headlamps to come help her search. They ran into mountain bikers with headlamps who also joined the search.
"The wind was picking up and branches were crashing down. The commands from California were not to leave the dog in the woods. The kids were at a friend's house and expected mom to emerge from the woods with the dog.
She and Tom realized that a flaw with how the Tile app synched with their phones meant that Weezie's location could not be determined digitally and the next day Sarah was back in the woods again, joined by other people who'd seen their post and were helping them search with their own dogs.
The family had been scheduled to go to Milwaukee to visit family and Sarah wanted to stay home and search. Seven inches of snow fell and Sarah's mother came. They got in touch with Carole Moore of For the Love of Dogs/Vermont Dog Rescue and Granite State Dog Recovery.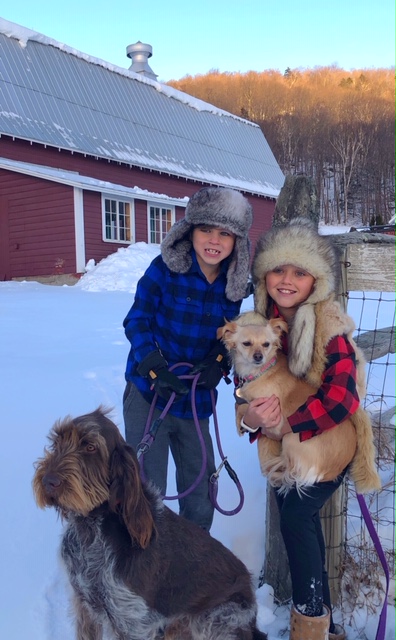 INCREDIBLE HELP
"The incredible help from community members was amazing for us and a source of comfort. We were blown away by how supportive people were – so many dog lovers. It gave us a lot more confidence and hope," she said.
Based on the combined advice of the experts, they set up a dog bed in the parking lot of Blueberry Lake, left a T-shirt there and put a trail cam near where she went missing and another near the parking lot.
The fourth night, Tom and another friend were doing nightly loops of Amenta's Way and the family was staying at Sarah's mother's house in East Warren to be closer to Blueberry Lake.
"The kids were bouncing off the walls and I explained karma to them, telling them what you put out in the world comes back to you. I asked them to be good now because we needed luck. Actually, I might not have said it that nicely," she recalled.
While she was downstairs maybe yelling that the kids needed to go to bed, she missed a call from a woman who said she'd spotted Weezie on the side of the road in an orange vest and that she jumped right into her car.
TOTALLY FINE
Then she got a text that said, "I've got your dog. She's in my car and she's fine." Sarah's phone froze and she spent a frantic few minutes trying to call Molly Ciminello, Warren, who'd found Weezie.
"She was just up the road and drove to the end of the street and there she was. Weezie was totally fine, definitely skinnier and she had a sore spot under her arm from where her orange vest rubbed her," Sarah said.
The Weigel family moved to The Valley from Massachusetts in August after being second-home owners and skiers for many years.
They had just celebrated their second anniversary of adopting Weezie. When the older of their two dogs died and Harold, their other dog, was melancholy, they set out to get him a friend, a dog similar to Harold, who is 70 pounds.
They found a rescue facility, Sweet Paws Rescue, through a friend and filled out an application seeking a medium to large dog. A rescued labradoodle was found and they went to check the dog out. But the traumatized labradoodle snarled at the kids.
"My friend who runs the rescue said to me, 'You want your kids to leave here not thinking that rescue dogs growl and snap, so let me introduce you to this dog,''' Sarah said.
Weezie came out prancing with her tail wagging. Both kids were enthralled, Tom was OK with it, but Sarah said she didn't want a 12-pound Chihuahua-terrier mix.
FOSTER FAILURE
"My friend, the crafty rescuer, talked us into fostering her and we were a foster failure with the tiny dog. She's never been anything but a source of affection and has a winning personality," Sarah said.
As awful as it was to lose Weezie, the experience helped the family feel at home in The Valley.
"I don't think we'll ever get over how lucky we feel to have her back. I can't stress enough how grateful we were for the support of the community during a tough time. We already knew The Valley was an amazing place, but it was a true affirmation of our decision to relocate here," Sarah noted.