Collaborative Brewing Company, the newest addition to the brewing family in the Mad River Valley, had its first distribution run through central Vermont this week.
Collaborative Brewing Co., Waitsfield, was started by four friends who all live locally, two of whom are siblings. Partners Craig Isvak, Steve Parker, Jen Fleckenstein and Brett Seymour canned their first beers last week.
Seymour is no stranger to brewing as he won the Make the Cut homebrew contest in 2015 for his schwarzbier, a darker German-style beer, titled Salute Your Schwarz. The contest was put on by 14th Star Brewing Company.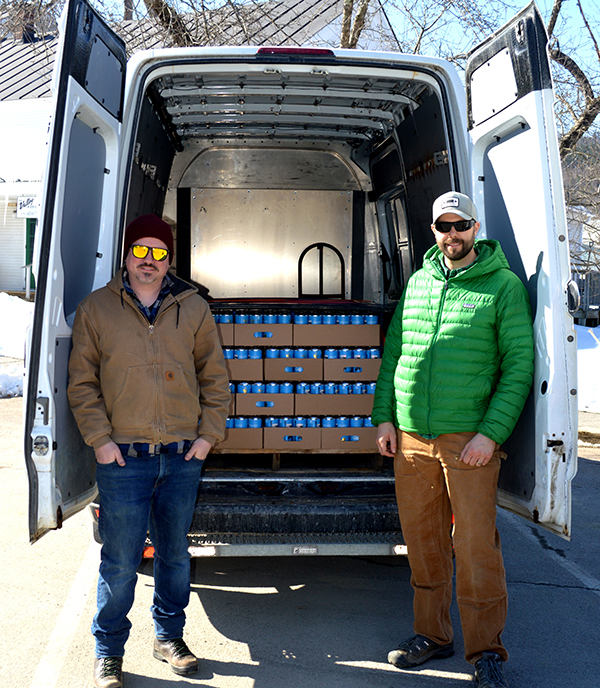 "I've been super busy in the brewery, so I actually haven't had much time to go out and sell. The locations that it will be in are all places that asked for it from me directly. … Most of what we are distributing is Salute Your Schwarz, our schwarzbier, or German black lager. The Valerie Porter, named after our local paper, will be on tap at the Hyde Away and Flatbread," said Seymour.
For now, Salute Your Schwarz in cans is available at Mehuron's, Village Grocery, Mad River Taste Place, Mutha Stuffers, The Warren Store, East Warren Community Market, Hostel Tevere and the Hyde Away. It will be on tap at The Mad Taco, Hostel Tevere, The Reks, Hyde Away and American Flatbread.
Collaborative Brewing Co. is self-distributing; Seymour typically will make the run himself or with another partner like Parker.
When asked what the limit will be for distribution and if there will be a limit to a pack like the Alchemist has, Seymour say the limits are up to the store owners.
"As of now there probably aren't limits, but we are fairly limited on cans so probably won't be taking on anymore can accounts for a while. Our next canning run isn't scheduled for a little over a month from now, but then it will be more regular."
As far as the next steps for the partners, Seymour said that the team will be taking their time. "For now we are just going to see how things go and play it by ear. I'm going to just keep making beer and hopefully grab some keg accounts in Waterbury and Montpelier."