Vermont Governor Phil Scott visited The Valley Reporter this week with three cabinet members for a roundtable discussion on issues facing Vermonters.
Members of The Valley Reporter staff plus two invited community guests had the opportunity to query Scott on a variety of issues including mandatory family leave, resources for those affected by the opiate crisis, housing and more.
Scott, along with education secretary Dan French, administration secretary Susanne Young and commerce secretary Mike Schirling, met with Valley Reporter editorial staff as well as Rebecca Baruzzi, who is the Mad River Valley resource coordinator, and Robin Morris of the Mad River Taste Place and Mad River Food Hub.
Scott was in The Valley on Monday, April 29, as part of his Capitol for a Day initiative which brought Scott and various cabinet members to each of Vermont's counties during the last year.
While at The Valley Reporter Monday morning, Scott was asked to clarify his position on family leave and whether it is mandatory or voluntary. He said he favored a voluntary plan versus a mandatory one (in which employees and employers contribute) and said he'd rather see a voluntary trial take place – including the use of software infrastructure similar to what was created for Vermont Health Connect. He said he had reservations about the $120 million cost of the mandatory plan, but also said he was trying to avoid the word veto this legislative session.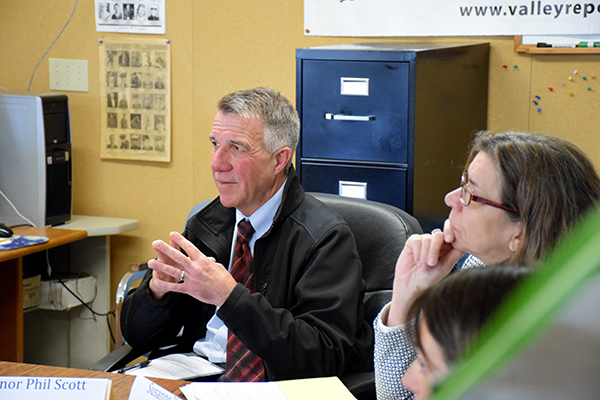 Baruzzi asked about support for those affected by the opiate crisis as well as consideration of the impact of the crisis on children. Scott credited his predecessor, Peter Shumlin, for his efforts to address opiate issues and said that his budget includes more funding for opiate issues. Young also noted that the budget invests more in early education and Schirling pointed out that all of these issues are interconnected.
Morris asked about housing – another issue that is interconnected with the ability of young Vermonters to stay in the state and to move here. Scott offered some statistics about the state's aging population and lack of workforce to take jobs. He noted that the state made $35 million available for housing, which resulted in private sector funds for housing of $65 million.
After his visit to The Valley Reporter, Scott attended an employers' roundtable discussion at Yestermorrow with Schirling, Young and several other administration officials, local legislators and local employers.
Scott also visited a mobile-home park in Duxbury to view the aftermath of Tropical Storm Irene and that park's efforts at flood resilience. Various cabinet members visited several other locations in The Valley throughout the day, including Mad River Taste Place, the Warren Public Library, Green Mountain Harvest Hydroponic and West Hill House B&B for a tax, tourism, economic development and finance roundtable.