Invasive Japanese knotweed is a bane for many towns and homeowners. While Waitsfield's trial program to eradicate knotweed on the Austin parcel adjacent to the Mad River is relatively well known, the Warren Conservation Commission is trying something different.
"At Town Meeting, we requested money to try attacking knotweed at higher elevations where there wasn't any other knotweed," said Conservation Commission chair Jito Coleman
They identified Roxbury Gap, East Warren Road, Brook Road, Airport Road and Plunkton Road as places where there were infestations of knotweed that they would tackle. They also targeted Riverside Park, Quayl's Park and Wabanaki Park next to the Sugarbush snowmaking pond.
They're not trying to attack the massive older groves of knotweed along the river. Rather, they are focusing on trying to knock it back in the upper elevations before it spreads and gets into the watershed.
Their methodology is to cut it down to about 6 inches above the base and then extract the root ball and as many roots as they can find.
"What's going to happen is that every bit of root that we don't find will shoot up into more knotweed, but the plant will be damaged and the root weakened. The plant will send up new shoots which requires energy from the roots.
"If we go back in three to four weeks and cut off those shoots before they can photosynthesize and re-energize the root, we can continue to weaken the plant," Coleman said.
This occurs repeatedly from spring until fall, for two to three years. In some areas, like the swim parks they targeted, the knotweed is repeatedly weed whacked and mowed.
"We're doing a lot of experimenting. We took a root and potted it and it grew really well. The upper parts of the plant don't reproduce. That's why mowing is so effective. George Schenk had some at American Flatbread and he mowed it repeatedly for several years and now it's dead," he said.
He noted that grazing animals such as cows, goats and sheep are also very effective in managing knotweed and other invasives and said that the commission was trying to work with Kimberly Hagen, the UVM extension agent, on getting some land and grazing animals to try that as well.
Once the knotweed was cut and the roots dug out, they created a knotweed dump/compost area near the snowmaking pond. They separated the tops from the bottoms (which are viable for years, according to Coleman) and let them dry out on black plastic. The upper parts die pretty quickly and eventually the roots dry out and die, if kept elevated from the soil.
The work was undertaken by two crews of four to eight people, plus volunteers and conservation commissioners who worked over 12 days. The crews were from the Vermont Youth Conservation Corps and they camped in The Valley during their work here. The town authorized spending $13,000 and it's all been spent.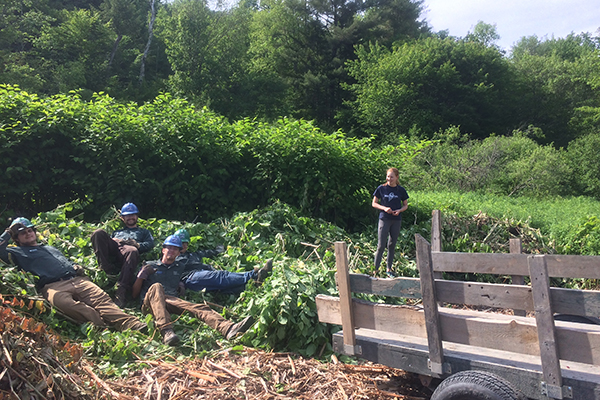 "In addition to cutting down the knotweed, the other part of the task we're doing is working with Gwyneth Clough, a Harwood student who will be a junior next year. She's our intern and she's helping us to map all the knotweed sites with a tracking program called inaturalist.org where people can search for 'Warren Vt knotweed project,'" he said.
With the funds spent, the conservation commission is hoping for some help from the community to help do the second and third cuttings in August and September. The small shoots will be cut and the roots will be plucked and dug. The commission is hoping to organize a couple of half-day community volunteer days.
"The goal of what we're doing, one of them, is getting people to realize that you can kill it. If we have that attitude, we've won the game," Coleman.