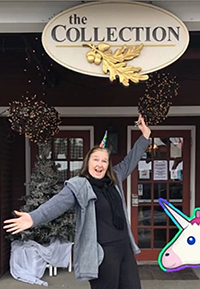 Yvonne Fugate at The Collection in Waitsfield was having a good day when interviewed on Thursday, March 26.
"The sun is out and I've got my horn on," said Fugate referring to her unicorn horn and I'm determined to get through this because this is my passion. I love what I do," she said, acknowledging how difficult the COVID-19 pandemic is going to be for retail businesses.
Prior to the state closing first restaurants and bars (except for takeout), and then businesses like hair and nail and tattoo businesses and now most retailers, Fugate was aware of the coronavirus.
She attended a gift show in Atlanta January 13-21 and the Toy Fair at the Javits Center in New York City, February 22-25. At each show there would normally be a section of merchants and vendors but because of the impact of the coronavirus there that space was filled by other vendors, she said.
"We were advised that people at the Toy Fair may not be shaking hands and to watch for social cues. There was hand sanitizer available throughout," she said, noting that she flew to NYC and took mass transit to get to the fair. (P.S. She and her husband, Tom, are healthy!)
"We were far less concerned then than we are now," she said.
Fugate said that she felt businesses in The Valley and Vermont did take the outbreak seriously, with ski areas closing March 14 and many others shortly thereafter.
"We've stayed open because we want to be able to supply the community with things kids need while they are quarantined -- puzzles, crafts, games," she said.
"Right now I have an open flag outside and the door is locked. In previous Aprils because business is so slow, we've joked about forgetting to unlock the door! she said.
TALKING AND EMAILING
She's talking and emailing with customers, providing them with pictures of things they might need as well as videotaping for them. People pay by phone and she puts their packages outside. But she thinks even that bit of business will be curtailed in another week or so.
"We may be able to go to work at our nonessential business as long as we don't have contact with the public. I think a stronger stay at home order is coming," she said.
Asked how she was coping with the uncertainty and how she was keeping it together, she said, "I have my horn on. I couldn't wear it for a few days. I was distraught, until yesterday when I decided I could put my horn on," she said.
"We're going to get through this. We're resourceful. I have a huge network of other store owners and a professional trade association. We're in communication. I know there are stores that are not going to make it. It's just the reality. But I'm bound and determined to make it," she added.
Advice for other retailers?
"Be innovative and try to do things in a different way. Thank God for social media and digital era, we're connected and it's easy to share information. You adapt and figure things out," she added.