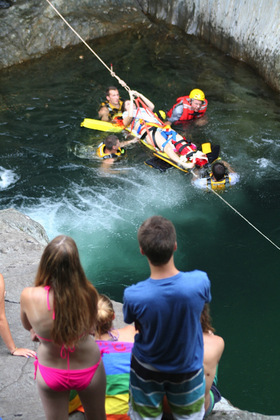 Rescue personnel from the Mad River Valley
Ambulance Service evacuated an injured
swimmer from Warren Falls on July 17
via a pulley, ropes, floatation devices and
hard work. Water levels are low at local
swimming holes and swimmers are advised
to exercise caution when diving and jumping.
Photo: Charlotte Robinson.
---
Despite a torrential downpour this week, rainfall is below average this month, the river is low, springs are low and some wells are faltering.
The Valley Reporter has received reports of homes with no water and marginal springs in Waitsfield drying up.
Caitrin Noel, director of Friends of the Mad River, said that water flow in the Mad River and its tributaries has been low all season and said that rainfall amounts were well below average.
According to the United States Geological Services stream gauge in the Mad River north of Moretown just less than 4/10 of an inch of rain fell in the thunderstorms of July 17 (http://nwis.waterdata.usgs.gov/vt/nwis/uv/?site_no=04288000&agency_cd=USGS). Those storms temporarily brought the stream flow up to about 260 cubic feet per second, but that number was falling as The Valley Reporter went to press on July 18.
Stream flows at the gauge prior to this week's rain were down as low as about 32 cubic feet per second. The USGS gauge has data on Mad River stream flow that dates back to 1928 and average monthly flows in July range from a low of 22.8 cubic feet per second in 1933 to a high of 473.6 cubic feet per second in 2009. The mean July stream flow at that gauge in July is 118 cubic feet per second.
Noel said that using the median stream flow rather than the mean to understand the impact of low stream flows was more accurate because the mean stream flows include peak flow events.  In the eight-plus decades that the stream gauge has been at that Moretown monitoring site, July median stream flows range from 85 to 163 cubic feet per second, significantly higher than last week's 32 cubic feet per second low.
Noel said that the lack of snow this winter meant diminished spring runoff and atypical rainfall patterns have meant the river and the water table are both low. She said that she was also hearing reports of failing wells and springs.
The National Weather Service website reports that average rainfall for Central Vermont through July 17 is 2.1 inches and the stream gauge data shows that 0.38 of an inch of rain was measured at that site through July 17.
A Vermont interactive drought monitor map and data for Vermont shows drought conditions (through July 10) from the state's northern border with Canada, south to almost Montpelier and Camel's Hump (www.plantmaps.com/interactive-vermont-drought-monitor-map.php).
In addition to stressing wells and streams, the lack of rain is browning lawns, harrying gardeners and worrying farmers. It is also hard on the fish and ecosystems of the Mad River and its tributaries.
Lower water flows mean warmer water and less than ideal habitat conditions for fish, especially in areas where streams don't have deep pools, Noel said. The warmer water had also led to at least one large bloom of the invasive didymo (rock snot) that was spotted in the Mad River near the Waitsfield/Moretown town line.
–LAL