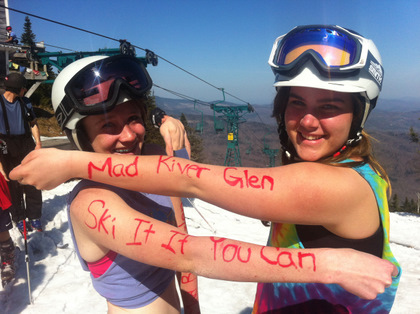 Mad River Glen skiers Emmy Kelly and Meredith Goodwin celebrate Mad River Glen's closing day on March 18 with smiles, sunshine and the ski area's motto. Photo: Eric Friedman
March came in like a lion and brought with it copious amounts of snow but also warm temps and blazing sunshine that sent much of the snow downhill via the streams.
Mud season came on the heels of the early spring, turning dirt roads into mud bogs and challenging even the most skilled drivers.
At Mad River Glen, the parking lot was packed on Sunday, March 18, for the Fayston resort's last day of skiing this year.
"The word on the mountain on Sunday was 'ski it like you rent em,'" said spokesperson Eric Friedman, referring to the need for skiers to traverse surfaces other than snow on Sunday.
"What was awesome about this season is that it proves the sustainability of the co-op model. We had 70 days of skiing this year and we budget for 100 to 110. And while we're going to lose some money this year, it's a very reasonable amount. Cash-flow-wise, we should get through the summer. To have that result in a season like this – and we still have no debt – shows that this model works. Over the 16 years that the co-op has been in existence this will only be the third year we've ended in the red," Friedman said.
"This has been a tough year for everyone and especially local businesses. After Irene, what else do people have to deal with?" he asked.
Despite the shortened season, Friedman had great things to say about how it ended.
"Sunday could not have been a better day. Skiing was good but definitely thin. In the words of our ski patrol director, we set a new standard in the industry for what we kept open. If people took the Bunny slope, you could get down on snow 98 percent of the way. But people were having a great time. There was a great vibe on the deck. There's nothing wrong with skiing at 80 degrees," he said.
At Sugarbush, the resort saw big crowds, lots of sunscreen and tall bumps as skiers in T-shirts, shorts and bathing suits took to the slopes. Sugarbush remains open with soft snow and 37 trails open on Wednesday, March 21. Pond skimming, which had been slated for March 31, has been moved up to this Saturday, March 24, and the Dummy Big Air competition takes place March 25.
Sugarbush president Win Smith, in his weekly blog "Win's Words," wrote:
"I have been in New England all of my life and while I have seen wild weather, this is certainly the warmest March I can recall. After a great weekend of spring skiing and riding on the moguls of Ripcord, Organgrinder, Stein's, Spring Fling, FIS, Exterminator, Elbow, etc., it is really sad to see what this hot sun is doing to our slopes and all the others in the Northeast.
"Everyone is asking the obvious question: 'How long will it last?' The answer is that we are in the hands of Mother Nature. As you know, our scheduled closing for Mt. Ellen is Sunday, April 1. And for Lincoln Peak closing day is Sunday, April 15. We will do all we can to stay open until those dates, but we will have to see what each day brings. To paraphrase the motto of our good friends next door, 'Ski it while you can!'
"The temperatures are going to be in the 60s and 70s on the mountain over the next few days and then it looks like it will cool down into the 40s for the weekend (if you can call that 'cool'). If temperatures fall below freezing at night, our groomers will be able to patch some of the trails where we still have sufficient snow. When it stays warm at night like it has been, grooming is much more challenging and will often do more harm than good on the trails.
"Come up and Ski It While You Can! And hope for some colder weather and more snow. I still haven't reached 100 days and refuse to take off my snow tires," he added.
Also at Sugarbush, the Sugarbush Adventure Games, a four-leg triathlon usually held in April, has been modified to become a three-sport (bike, run, paddle) event slated for mid-May. Details are forthcoming.
{loadnavigation}