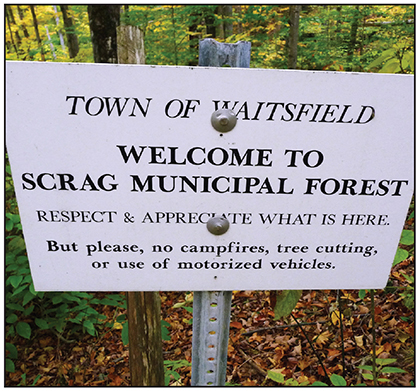 By Lisa Loomis 
The Waitsfield Conservation Commission unveiled a much awaited draft of its Waitsfield Scrag Forest Management Plan to an enthusiastic audience last week.
In that plan, the Conservation Commission spells out that wind development on the ridge is not compatible with the current easements that run with the property. Several years ago a wind developer expressed an interest in constructing a commercial wind farming enterprise along the Northfield Ridge fromWarrento Moretown. TheScragForestis located in the middle of that ridge.
The draft plan outlines how the town will protect the forest while maintaining public recreational activities and also managing the timber on the property. It is the result of ecologist Kristen Sharpless being hired by the Conservation Commission to incorporate three studies into one comprehensive document.
Sharpless used a 2007 Audubon forest bird habitat assessment prepared by biologist Steven Hagenbush, a 2008 natural features inventory from Arrowwood Environmental and a forest stewardship plan created byWashingtonCountyforester Russ Barrett to draft the document, which the commission revealed to the public in late March.
TheScragForestlies along the eastern ridge of The Valley as part of the Northfield Ridge. The 640-acre town forest parcel is part of the 4,145-acre parcel of undeveloped, unfragmented forest that provides habitat for wildlife requiring large, roadless, forested areas. The town parcel has 5,970 feet of ridgeline on the Northfield Ridge. That ridge rises to 2,860 feet in elevation.
In addition to the unfragmented deep forest lands, the town forest includes a high-elevation wetland on both sides of the Northfield Ridge that feeds two watersheds, Folsom Brook to the west and Felchner Brook to the east. There are steep slopes with mixed and hardwood forests.
The plan calls for using sustainable forestry practices on the 460 acres of woodland suitable for timber harvest.Foreststands below 2,500 feet and outside of the Special Treatment Area will be managed with uneven and even-aged silvicultural systems. Protecting the two watersheds along with riparian buffers, waterways, water quality, aquatic habitat and wetlands are spelled out as a goal as well.
Among the goals articulated in the plan is to improve and complete public recreational trails as well as conserving habitat for native game and nongame wildlife.
Currently, non-commercial, non-motorized recreation – including hiking, dog walking, snowshoeing, hunting, trapping, cross-country skiing and wildlife observation – is permitted on the parcel. Mountain biking is permitted, although the current trail network is not well-suited to this use, the draft plan notes.
"Horseback riding is prohibited until if and when such a time a trail network that can sustainably withstand this use exists. Hunting and trapping are permitted in legal seasons according to the Vermont Department of Fish and Wildlife rules and regulations. Fishing is discouraged because the trout are few and small, and we would like to encourage their presence. Beaver trapping is also discouraged because we want to restore the ponds to active use," Sharpless wrote.
She enumerated guidelines for public use including the following:
1) Respect wildlife, the forest, and other visitors.
2) Carry in and carry out trash and waste.
3) Open from dawn to dusk. For overnight camping, seek permission from the Waitsfield Conservation Commission.
4) No open fires.
5) Motorized vehicles and horseback riding are prohibited.
6) In accordance with Town ordinance, dogs must be leashed. Please pick up after your dogs.
7) Hunting is permitted in legal seasons.
8) Respect neighboring landowners and land-posting signs.
9) Observe appropriate use of trails:
a) Limit trail use during mud seasons.
b) No cutting or creation of new trails.
c) Observe trail closures and reroutes.
She also proposed concentrating recreational use on existing trails and woods roads, prohibiting the creation of new trails except to replace unsuitable trails, complete or create trail loops or travel to vistas, or to connect to trails on adjacent properties where public access is permitted.
{loadnavigation}