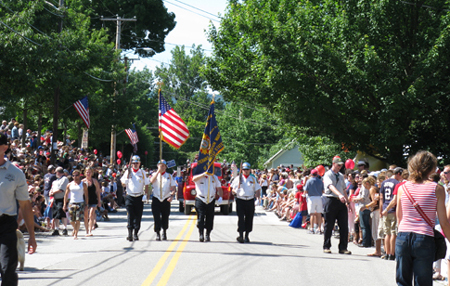 "We, the People" is the theme for the 2012 parade and celebration on Wednesday, July 4. Grand Marshals, the Mad River Long Term Flood Recovery Team, are preparing their float for the front of the parade.
Warren's Main Street and Brook Road up to School Road will be closing at 8:30 a.m. and the parade committee requests assistance from village residents to get their guests to their homes prior to that time.
Following the parade, Jimmy Yozell and Friends will once again get the street folk grooving for the street dance. Food vendors will be in the vicinity to quench thirst and to feed the body and soul.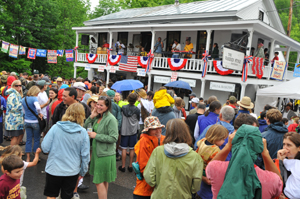 Those going to the Brooks Field (elementary school) kids' activities are invited to walk the 6/10 of a mile using Brook Road and School Road. Road signage will direct people up the Brook Road to the school for post-parade options like supervised kids' fun (sponsored by KidVentures and Melody Showacre), live music from Mad Mountain Scramblers (sponsored by Jamieson Insurance and Long Trail Financial), beer garden by Purple Moon Pub, pick-up games and a full assortment of food vendors.
The Mad Bus will once again offer free shuttle service beginning at 8 a.m. at Yestermorrow School and Lincoln Peak. Shuttles will run all day until 4:15 p.m. Parade-goers are strongly urged to hop an early bus in order to level out the flow of riders to Warren Village and avoid missing the parade. Buses will turn around at Lincoln Gap Road, dropping off and picking up at Covered Bridge Road, then making return stops to Yestermorrow and/or Lincoln Peak.
More parade information can be found at Facebook.com/Warren4thofJuly or by calling the chamber of commerce at 496-3409.