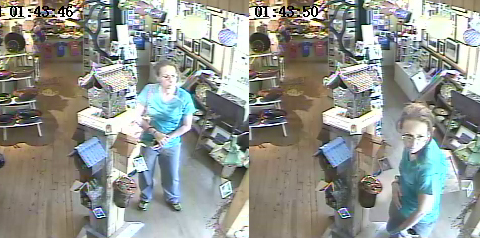 Vermont State Police are investigating a retail theft of several items taken from the Artisans' Gallery on Bridge Street in Waitsfield during business hours on June 19, 2012.
The state police have obtained surveillance footage of a female who entered the business at approximately 1:40 p.m. with an empty bag and proceeded through the business placing several items in that bag before leaving at approximately 1:55 p.m.
The state police are requesting assistance in identifying this female via the attached photographs.  If anyone has information, please contact Trooper Haag of the Middlesex Barracks at 229-9191.