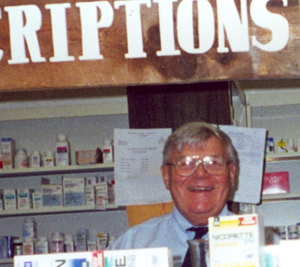 You might say Allen Odell's ownership of The Drug Store was a "Ski It If You Can" kind of fate. Odell, a regular Mad River Glen skier, received a call in 1971 from another Valley skier and second-home owner who said that plans to open a local health center were hung up on the need for a pharmacist and a pharmacy.
"Jerry Tucker's family had donated a building for the town to use as a medical center and they had doctors interested but they wouldn't commit until there was a pharmacy in town," Odell said.
"I went home and told my wife Jean that I'd had a crazy call from George and that they wanted to know if we'd open a pharmacy.  That was in 1972. We were living in Seneca Falls, NY, and skiing at Mad River Glen. We decided to go ahead and do it," he said.
"At the time that portion of the shopping center was only from the gas station back and there were plans to build a new section next to Mehuron's. We signed an agreement and moved into 2,000 square feet and opened in November 1972," Odell recalled.
Initially, Odell and his wife ran the pharmacy from New York, spending weekends and the vacations of their staffers covering the store. When The Drug Store opened, their three children were in high school.
"Our kids all managed to get through school and get up here before we did," said Odell who retired to The Valley 25 years ago.  His kids are now 57, 52 and 48 years old!
Odell, who is 81, had a pharmacy in Waterloo, NY, that he owned and managed until retirement. He is a third-generation pharmacist who graduated from the University of Buffalo and then did three years of active duty in the Air Force before serving in the reserves for 11 years and retiring as a captain.
A few years ago, he started thinking about retiring, and when Kinney Drugs approached him, it took a few conversations before he was convinced that the employee-owned company had what it took to serve The Valley.
"We agreed that it would be run pretty much the way it has been run," he said.
"Lots of people think about it as their store. It's so close and easy for people. I'm proud that we were able to keep it going and successful for 42 years and that we've been able to serve the community. We've done the best we could with what we had to work with," he added.
Any advice for the new owners, which will be the first and only chain-owned business in The Valley?
"Remember that the community will support you if you treat them right," he said.
Odell, who has two new knees, is looking forward to skiing and golfing in his newfound spare time.
"After all of this is over I might actually feel retired, even though, as my wife says, there's not one day that I don't go to town and spend four to five hours at the store," he noted.
{loadnavigation}