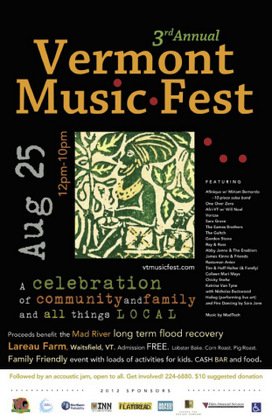 Come listen to local bands and help raise money for the Mad River Long-Term Flood Recovery Fund at the third annual Vermont Music Fest, which will take place on Saturday, August 25, at Lareau Farm in Waitsfield.
The music kicks off at noon, and bands will play on alternate stages until 10 p.m., when the event will transition into a fireside acoustic jam session, in which anyone is welcome to join.
The festival's musicians (in order of performance) are James Kinne, Colleen Mari Mays, Tim Holter, The Gulch Band, Abby Jenne & the Enablers, Gordon Stone with Ray & Russ, Sara Grace, The Eames Brothers, One Over Zero, and Afinique with Miriam Bernardo.
Throughout the day, food vendors will be selling flatbread pizza, pig roast, corn roast and lobster rolls as well as both alcoholic and non-alcoholic beverages. There'll also be tons of activities available for kids, including face painting, ping pong, Frisbee golf, horseshoes and more.
While the event is free and open to the public, donations are encouraged, as all proceeds will go towards the Mad River Long-Term Flood Recovery Fund, helping families and businesses that were hurt by Irene.
The Vermont Music Fest is actively seeking sponsors to join Baked Beads, Craig Eilers, Northfield Savings Bank, The Village Grocery, Serena Fox Design Company, Northern Reliability, American Flatbread, and Lareau Farm in helping to keep the festival free and supporting its fundraising mission. Those interested in becoming sponsors should email This email address is being protected from spambots. You need JavaScript enabled to view it. or call 802-224-6880 to get involved.
For more information about Vermont Music Festival, visit vtmusicfest.com or "like" it on Facebook.
{loadnavigation}