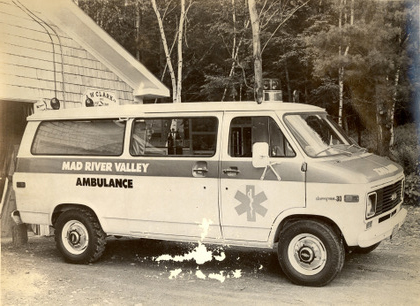 For many years, if there was a medical emergency in the MadRiverValley, Perkins Funeral Home in Waterbury was dispatched with their hearse, which also served as the local ambulance. Needless to say, there were a few jokes about the "one-stop shopping."
Over time, the need for a local ambulance service became too pressing to ignore and some farsighted local community members came together to make that happen. Reginald Bragg, Allen Clark, Walt Elliot, Guy Gould, Dana Haskin, Fletcher Joslin, Mel Morris, Nelson Patch and John Snow all worked for months, raising the funds, writing the bylaws, researching EMS standards, until finally, on August 26, 1970, the Mad River Valley Ambulance Service was officially running.
Initially housed in the Waitsfield Fire House, MRVAS grew in members and numbers of calls it received. The old Cadillac ambulance was replaced by a wagon-style rig and then a van. One ambulance was joined by a second, and then a rescue vehicle was added as tools to extricate patients from crumpled cars were purchased.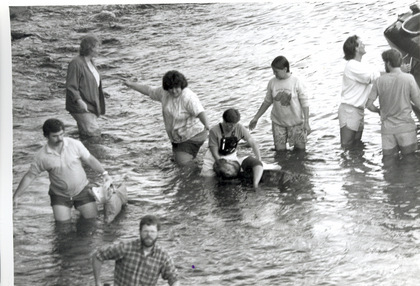 In the first decade, when someone had an emergency, they called MRVAS, 496-3600. If it was during the day, the call was answered by someone at the Waitsfield Telephone Company who then dialed up a number that allowed her to dispatch the call. Pagers would go off and members would call in. It was not easy to talk back and forth to the dispatcher, requiring a constant redialing of the number. Over time, technology caught up to need and radios were purchased for members and a repeater and base station set up for the dispatching.
"And while many emergency services have contracted their dispatching out to private firms, MRVAS continues to believe those living in the community are best able to serve that community and so relies on their 14 local dispatchers to 'tell them where to go,'" said longtime MRVAS member Joni Zweig.
When the state moved over to the 911 system, there was a bit of a learning curve to get residents to post their 911 addresses where they could be seen – now instead of the ambulance being sent to "that red house next to the barn that burned down five years ago," it is sent to a number on a road.
Initially, Advance First Aid and then Emergency Medical Technician training were offered, but after much lobbying by MRVAS, Advanced Life Support training was approved for squads in the Central Vermont area.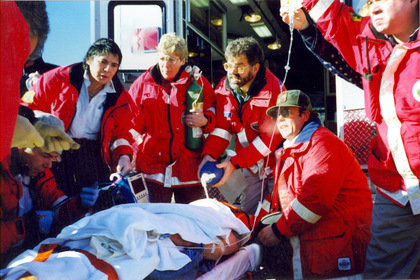 "There are many Valley residents alive today because they were able to receive fluids, epinephrine, glucose, etc. immediately, rather than an hour later at the hospital," Zweig said.
"Since the very beginning, MRVAS made a commitment to the community to offer the highest standard of emergency care available in the state and to ensure that members train monthly, attend conferences and increase levels of certification as they become available," she continued.
When DartmouthMedicalCenter began offering Medivac helicopter transport for trauma patients, MRVAS was one of the first to sign on, and they continue to use this option whenever necessary. In 2009, MRVAS signed a contract with BarreTown for paramedic intercepts, allowing for a greater level of pain management and advanced cardiac drugs when needed.
Covering such a large geographic area is a challenge for timely patient care. From the beginning, MRVAS set up a system of first responders; those closest to the scene would respond and stabilize the patient, while the rest of the crew responds to the station and, along with the rig, proceed to the scene. The original portable oxygen units carried in their homemade wooden boxes weighed in at around 20 pounds. Today all medically trained members carry lightweight aluminum oxygen canisters in canvas bags, along with fully stocked first-responder bags. Advanced Life Support (ALS) members carry additional equipment including IV setups, fluids and medicines, ensuring the first person on scene can administer lifesaving medical care, well before the ambulance arrives.
"In the early 1980s, MRVAS piloted one of the first AED programs in Central VT. This allowed them to immediately defibrillate someone in cardiac arrest. Over time, MRVAS has offered training to community groups and worked to ensure portable AEDs are placed around The Valley," Zweig said.
In the early days of MRVAS history, most car accidents resulted in multi-trauma to the patients. Payday on the ski mountains sometimes meant a bad car wreck that night, with a code three response to the hospital, she said. In 1993, the seatbelt law was enacted in Vermont and MRVAS saw a significant drop in severe injuries from motor vehicle accidents. When airbags began to show up in cars, the number went down even more.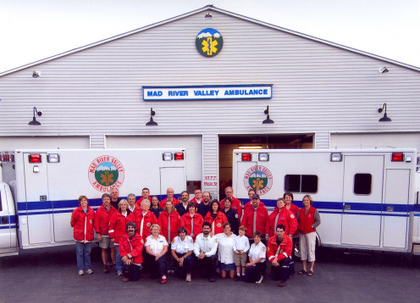 "After years of trying to squeeze into a space they had outgrown years before, and many years looking for alternatives, MRVAS finally moved into their own building in 2000. After significant renovations, the new station was housed in what had been Bonnette's Garage on Main Street in Waitsfield. The new facility gave a boost to the sense of community that MRVAS members have always felt within the squad," she said.
Since its inception, MRVAS had a vehicle dedicated to carrying the equipment needed to extricate a patient from a badly damaged car. But over the years, as MRVAS found itself responding to more off-road rescues, including remote snowmobile accidents, ATV accidents, injured hikers on the Long Trail or on Burnt Rock, and more interest developed among MRVAS members to train in ropes rescue and the newer Jaws of Life and other extrication tools, it became clear that the service needed a team dedicated to just this kind of rescue. And so in the early 1990s, a special discipline within the service was established, with its own training. Members ofRescue provide the needed support at car accidents, off-road rescue and whenever extrication is needed.
"From the very beginning, MRVAS was founded on the principle that it would be a volunteer service and remain independent of any town or fire department. This is still a guiding principle of the service, 42 years later. Since 1970, members of Mad River Valley Ambulance Service have responded to thousands of calls, saved lives and provided the community with a sense of security, knowing that in times of emergency, highly trained community members will respond to help. Although over the years much has changed in EMS and in MRVAS, some things have stayed the same: the same level of volunteer spirit, a commitment to excellence and a sense of community amongst squad members, as well as a commitment to provide emergency care to the Mad River Valley, 24 hours a day, 7 days a week, and 365 days a year," Zweig concluded.
Photos courtesy MRVAS
{loadnavigation}