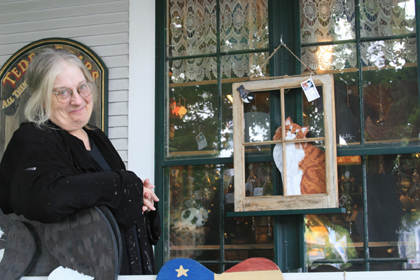 The Festival of the Arts drew people from near and far to visit The Valley and experience the arts. This past week Monica and Mike Hackett from Kansas City became familiar faces as they attended A Taste of the Valley, the Art in the Garden Tour, and then topped their visit with a round of Open Studios. They shared that their stay with Luke and Laura Iannuzzi at Wilder Farm Inn was a highlight, and they are beginning to plan for next year! Ilene Arons and her friends from Florida spent the weekend prowling the galleries and exhibits. Ilene left a note at the Festival Gallery, "I thoroughly enjoyed the Garden Tour and today's 'Open Studio.' See you next year!"
Highlights from the busy week including the Art in the Garden Tour and Open Studio Weekend. The Art in the Garden Tour on Friday was fun as 35 garden and art enthusiasts spent the day exploring six Valley gardens and watching local artists at work. Saturday and Sunday's Open Studio Weekend brought crowds to town as they visited a variety of artists at work. Red Barn Art Show and the Photography Exhibit at the Round Barn also continued to draw visitors and buyers.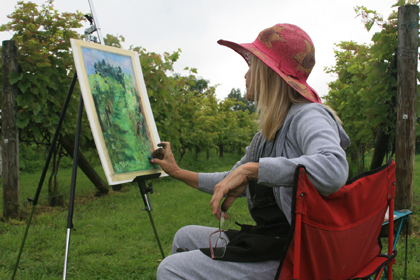 Artist Pam Druhen spent Saturday afternoon at the Festival Gallery explaining the process of her art quilts. "Threadscapes" is showing during the month of August and is a glorious show of landscapes, florals and abstracts all created with thread and fabric. Be sure to look at a Pam Druhen piece first from afar, as one sees the overall image, then up very, very close (reading glasses are helpful!) to see the intricate layering of thread over thread. She literally paints the image with her sewing machine. Her works shouldn't be missed.
Kids also joined in the fun at Festival events this week. The art of living well was well demonstrated by kids of all ages at the sixth annual Pie Eating Contest held at The Warren Store. Participants dove into pie plates of yummy chocolate and whipped cream – no hands allowed! Kids Create Workshop at WaitsfieldUnitedChurch provided hands-on activity of creating toys from found items, paint and glue.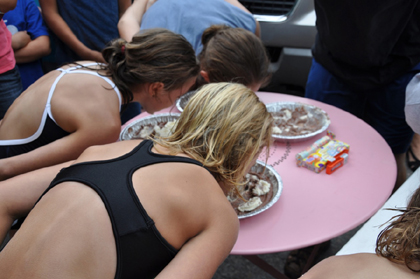 The third week of the Festival of the Arts is approaching with plenty of events to come. The Vermont Playwrights Circle will be presenting the fifth annual Ten-Fest, a festival of 10-minute plays, this coming weekend at the Valley Players Theater. Vermont playwrights have prepared 10 short plays, some funny, some poignant, but all entertaining. Vermont's poet laureate Sydney Lea will be holding a poetry reading at the WaitsfieldUnitedChurch on Sunday. Sponsored by the Joslin Memorial Library, Sydney Lea has been described as "a man in the woods with his head full of books, and a man in books with his head full of woods."
What could be more fun than a festival within a festival? The Great Vermont Plein AirPaint-Out takes place on Saturday as over 35 artists from all over Vermont descend on historic Waitsfield Village to spend the day painting (or drawing or sketching) "plein air." Roam around to see the artists at work – whether along the river, in a backyard, or on a Bridge Street porch! At 3 p.m., the artists will gather back at Bridge Street for a sidewalk art show and sale. See art as it is being created and perhaps purchase that same work later in the day. The Paint-Out occurs rain or shine.
Always eagerly anticipated, the Vermont Young Musicians Award and Concert will be at Harwood auditorium on Sunday, August 19, at 7 p.m. Established and funded by the MRV Cricket Club, this is one of Vermont's most prestigious competitions. Students from across Vermont compete for thousands of dollars in prize money, including the James Plumpton Award for first place. This concert is the final round; the winner is selected after each of the finalists perform their selections for the judges and audience. The Vermont Philharmonic Orchestra is a partner in this award competition and provides the judges.
This year's finalists are: Sierra Marcy, South Burlington, voice; Perry Emerson, Lyndon, flute; Victoria Bergeron, Essex Junction, violin; Siena Facciola, Montpelier, piano; Aliza Silverstein, Hyde Park, piano; and Quinn Parker, Richmond, trombone.
Come out to hear the very best young musicians Vermont has to offer! Tickets are available at the Waitsfield Farmers' Market, the Festival Gallery or at the door.
Of course, don't forget all the great ongoing exhibits and shows around town!
GreenMountainCulturalCenter 23rd annual Photography Exhibit at the Round Barn
Big Red Barn Art Show at Lareau Farm
Pastel Show at The Bridges
Contemporary Art Show at Quench Artspace
Big Bike Show at BigTown Gallery in Rochester
"Threadscapes" by Pamela Druhen at Festival Gallery
"Vermont Visions" by Isabella Frost at ThreeMountain Café
"Walter Dorwin Teague: His Life, Work and Influence" at MadsonianMuseum
Check out www.vermontartfest.com for more information on all Festival events or call (802) 496-6682.
{loadnavigation}